This is Claude, a Senegal parrot (poicephalus Senegalus) He is two and a half years old in november 2003.

Some time ago, Claude's dad sent Claude's pictures to be placed on the parrots around the world pages. Because I had serious trouble picking one (I thought Claude looked adorable on all the pictures) I decided to give Claude his own page.. :-)
On the photo below, Claude is looking extremely cute, can you see why I couldn't refuse this angel his own page?
Claude's dad told me Claude is a great companion and that he loves his photo being taken.. Well, Claude, you are so photogenic!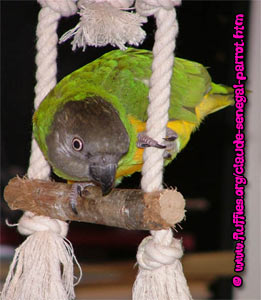 His daddy came to visit him at the breeder since the age of four weeks untill the was weaned and ready to go home. Claude feels a bit embarrassed to show his baby photos, but I think he shouldn't be embarrassed at all. Even then, he was a goodlooking Senegal parrot!
Claude came home when he was 11/12 weeks old..

On the photo below you can see Claude with his clutch mate sitting in an ice cream carton at the age of four weeks..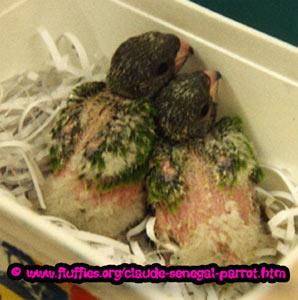 The next photo was taken by Claude's daddy during a visit to his breeder.. Do you see the pink beak? That's a sign of the juvenile Senegal parrot.. :-)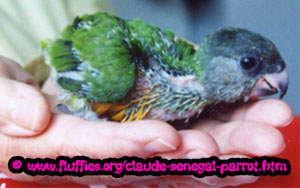 The photo below was also taken during a visit to Claude's breeder.. Claude seems to enjoy his meal. :-)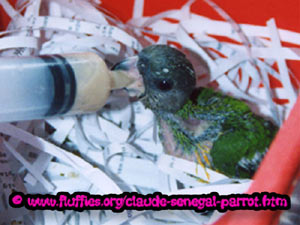 On the photo below, Claude proudly shows you his residence.. :-) By the way, he only inhabits it when his dad is off to work. Claude is allowed to play out of his cage all day long, except for when his daddy has to work. When she's off, he's out 24/7.. What a life!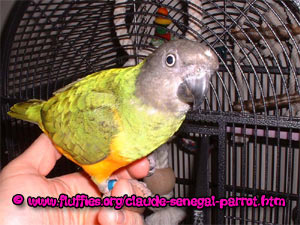 Claude loves climbing & swinging upside down as the photos below illustrate..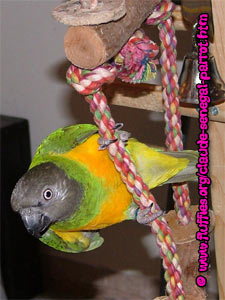 Am I an acrobat or what?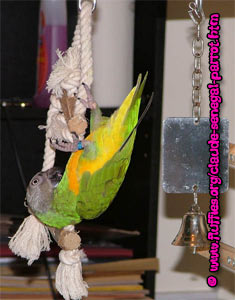 That's my mirror..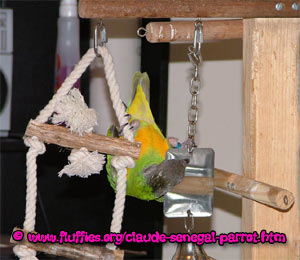 And my bell..
After playing I need some flapping.. :-)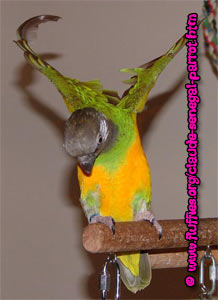 Don't my wings look preeeetttttyyy?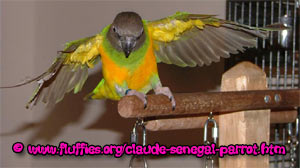 Claude loves to lay in daddy's hand & enjoys it when she rubs his head and his chest..
On the photo below Claude laying upside down in his dad's hand.. Yiehaa!