<![if !vml]>

<![endif]>




Meet Driekje.. Driekje lives with his mom in the Netherlands for 30 years! He has been caught from the wild a long time ago..Driekje still knows where he came from.. On the photo shown below, he is trying to find Senegal on the globe.



Driekje has been shy to hands for quite some time, but his mom managed to win his trust.. He joins her, riding on her shoulder..
On the photo below, Driekje is drinking his cranberry juice.. :-)






This is Pietje, a 2,5 years old peach faced lovebird. His mom thinks he's a male. Before her he's lived with two other people, a man and her mother after him. He used to live with his partner but she died. No one had ever tamed him but when his mommy visited her mother and began to talk to Pietje, he came to sit on her finger after only half an hour! She immediately fell in love with him and took him home to give him a better home!
Pietje loves to join his flock and to cuddle, especially when his mommy behind the computer. He'll sleep under her hair then! Also when his mom is doing the dishes he joins her and has a bath while she does all the hard work.
He's a loveable lovebird with a strong own will, and a healthy dose of curiosity.




This is Hohoiyo. He is a leadbeaters cockatoo of approximately 3 years. He lives together with a mealy amazon & a yellow naped amazon and his mommy in Japan. He loves to dance and scream Hohoiyo Hohoiyo! Isn't he a cutie??
Here are some more pictures of Hohoiyo and his family:











This is Dolly. She is a female Hahns macaw (Also: red shouldered macaw or ara nobilis) and she was hatched in the Philippines in July 2000. She can talk quite well!

She lives together with Marine, a blue and gold macaw. She was named Marine because of her brilliant color: Aquamarine!! She was also hatched in the Philippines, but then half a year later. (Somewhere in the beginning of 2001) Marine is full flighted, when mom comes home from work she puts the harness on Marine and puts her on the balcony. She loves flapping her wings over there...







In the weekends, she also joins her mom whenever she is making trips.
Sometimes they pay Hama Chan a visit. He wasn't as fortunate as Marine is... If you want to see his story please click here, but beware, his story brings tears to your eyes!!!





Please click here to visit Dolly's website and here to visit Marine's website.

If you want to see your bird over here, please send me an email!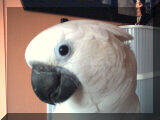 Angel's mommy tells: This is Angel, he is an Umbrella Cockatoo. He stands tall at 16 inches. His hatch date is May 23, 2001. He was bought home with me on September 24, 2001. Ever since then life has been a joy with Angel. Some days get hard and frustrating, but it's all worth it. He's like a little baby that needs to be taken care of all the time and has to have constant attention. He loves to play, scream,





talk, eat, and take baths!





His favorite word is "Peek-a-boo" and sometimes he likes to sing! He is so cute and adorable, and loves kisses. He loves to be cuddled and played with. Sometimes he even likes to sleep with mommy! :)

Angel has quite a busy day:
---
www.fluffies.org
Copyright © 2001- 2005 All About Parrots & Alles over papegaaien
All About Parrots interactive & Alles over papegaaien interactief
All rights reserved. No content may be used or reproduced without the author's written permission