<![if !vml]><![endif]>


Want to see more diary entries with photos? Then please click this link!

Iago & Zazu have been given a wonderful outdoor play gym, that they enjoy very much! On the photo below you can see them sitting on their gym..
Iago is sitting in the front, that's why they look almost the same size!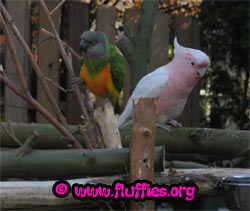 On the photo below, Zazu has started his job: To destroy the play gym.. He hasn't succeeded yet!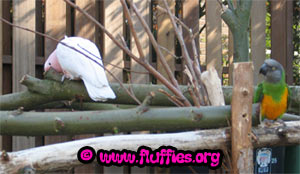 On the next photo, you can see that I've switched Iago & Zazu's indoor play gym. The reason for this is that Zazu came off his play gym (decending all the time!) a lot. On Iago's former play gym, this is not possible.
We've mounted a log of wood onto his gym so that he can gnaw if he wants to!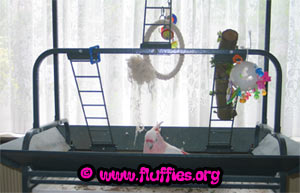 Zazu seems to enjoy his new gym. He went to check the bowls for food. Nothing there yet, Zazu!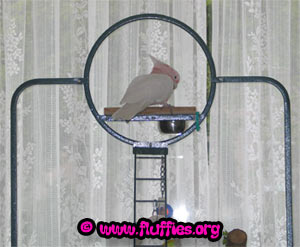 We hope to see you next time!

*** Disclaimer & warning PLEASE READ *** Please note that one should be careful to take his or her birds on outdoor excursions. Wings should be clipped properly and in case of a smaller, lighter built birds, please ALWAYS use a harnass!
If you are not sure if your bird is considered light built, please ALWAYS use a harnass!
The birds on this website are thoroughly trained large parrots. Some of the activities depicted could put smaller, untrained birds in jeopardy.
Also, my parrots are fed a very healthy, organic diet on normal days.
PLEASE only feed your parrot these unhealthy snacks on rare occasions and in VERY small amounts!


---
www.fluffies.org
Copyright © 2001- 2005 All About Parrots & Alles over papegaaien
All About Parrots interactive & Alles over papegaaien interactief
All rights reserved. No content may be used or reproduced without the author's written permission