<![if !vml]><![endif]>


Want to see more diary entries with photos? Then please click this link!

Today, I took Iago to the National memorial monument in Amsterdam. Every year, on may 4th, we commemorate the soldiers and citizens who lost their lives in World War II. We lay flowers on monuments, and keep 2 minutes of silence in respect of those who have fallen during the war.
On may 5th, we celebrate liberation day.

On the photo below you can see the train entering Amsterdam Central Station. There are a lot of trains stopping there. Can you see the trains on the background? Those are intercity trains.
Iago seems eager to get out..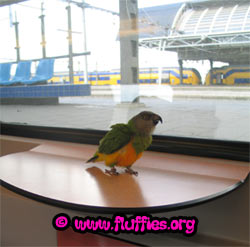 On the next photo you can see Iago in a tram in Amsterdam. It was his first time in an "Amsterdam" tram.. He insisted on taking the tram..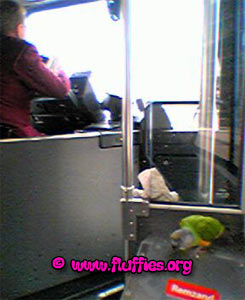 On the photo below you can see a photo of the "Naald' (Translated: The Needle)
It's the place where our queen lays her flowers.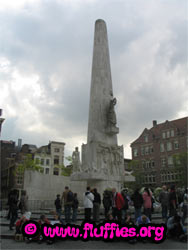 On the photo below you can see Iago sitting in front of the monument. I don't think he understands the meaning of all this, but I just wanted to take him there..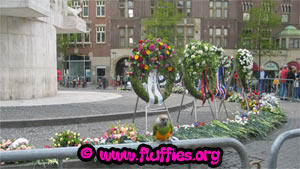 On the next photo you can see a more detailed photo of the monument. I am not sure what it should depict?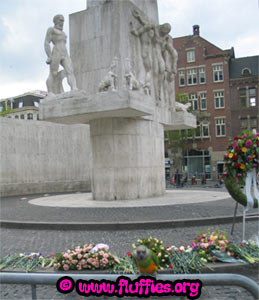 After our visit to Amsterdam, Iago & Zazu had a nice shower together.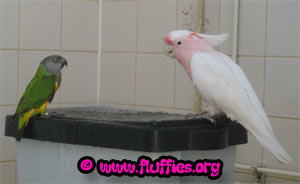 We hope to see you next time!

*** Disclaimer & warning PLEASE READ *** Please note that one should be careful to take his or her birds on outdoor excursions. Wings should be clipped properly and in case of a smaller, lighter built birds, please ALWAYS use a harnass!
If you are not sure if your bird is considered light built, please ALWAYS use a harnass!
The birds on this website are thoroughly trained large parrots. Some of the activities depicted could put smaller, untrained birds in jeopardy.
Also, my parrots are fed a very healthy, organic diet on normal days.
PLEASE only feed your parrot these unhealthy snacks on rare occasions and in VERY small amounts!


---
www.fluffies.org
Copyright © 2001- 2005 All About Parrots & Alles over papegaaien
All About Parrots interactive & Alles over papegaaien interactief
All rights reserved. No content may be used or reproduced without the author's written permission