<![if !vml]><![endif]>

Today, I took Nenya and Zazu on a beach trip. Nenya still was a bit afraid of the breakers, because I had never taken her to the beach in the weeks of her socialization period. (The beach was too crowded, during her socialization period, it has been incredible hot weather! Also, she wasn't house-trained very well then and I didn't want to bother sunbathing people with that!)
So I decided to visit the beach again.
Iago was left at home with the branches I got from my friends and with a nice treat or two. He didn't mind. I left him at home because I was afraid to loose him to the wind as he is so light built.

This time Nenya liked the water & breakers better. On the picture below you can see her walking in shallow water.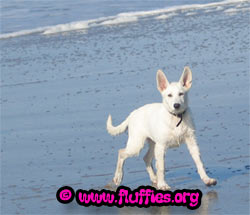 On the picture below, she was surprised by some waves.. You can see her running out of the water.. :-) Do you see the waterdrops falling out of her fur?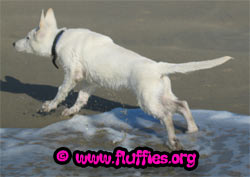 On the photo below you can see Zazu having a bit of a fright.. He just saw some foam, that came from the crests on the waves, coming his way. Awww, did you have to spread your wings, Zazu? Now everyone can see that I have forgotten to clip three flight feathers!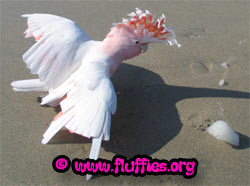 Zazu started running along the high-water line on the photo below..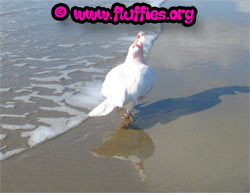 Zazu decided that it was a good idea to paddle a bit. Someone watched him very closely!! Please don't try this when you are alone and you don't have anyone to watch your parrot very closely while you take a picture or when your fid is very light built! Please do not do this when the wind blows hard!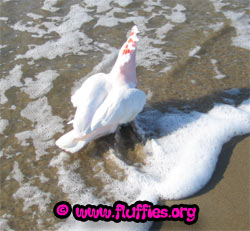 Zazu also seemed to find it funny to scare us a bit by walking into the water a bit further. After I made this picture, I immediately grabbed him because I didn't want him to be a parrot fish!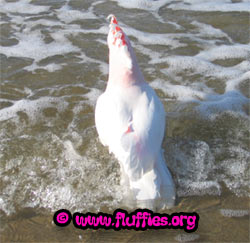 Till next time!
---
www.fluffies.org
Copyright © 2001- 2005 All About Parrots & Alles over papegaaien
All About Parrots interactive & Alles over papegaaien interactief
All rights reserved. No content may be used or reproduced without the author's written permission