<![if !vml]><![endif]>


Want to see more diary entries with photos? Then please click this link!

This parrot diary entry may take quite some time to load.
Please wait patiently until all the parrot photos are loaded.. :)



Today, Zazu joined me on a nice winter walk..
Weather forecast said that this cold weather won't last long, so I decided to take Zazu outside while the snow was still there.. :)

On the photo below, Zazu is walking in the snow.. He just loves digging snow! :)

Click here for a movie of Zazu doing fieldwork in a snowy field (1.781 KB)

On the next photo, Zazu looks at the trees, there isn't much snow in them anymore..
Thaw has started.

Zazu loved the view from here..
He was a bit surprised that he wasn't that white compared to snow..

On the next photo, Zazu is sitting on an information sign.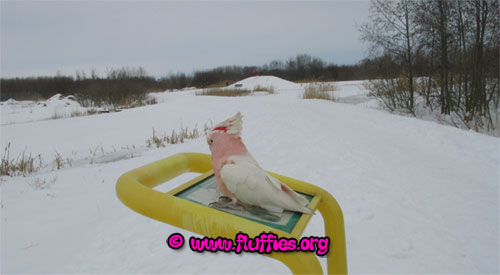 On the way back, we saw a thrush?
While I took this photo, Zazu remained very very quiet!
It was like he felt that I was trying to capture this beautiful bird on camera..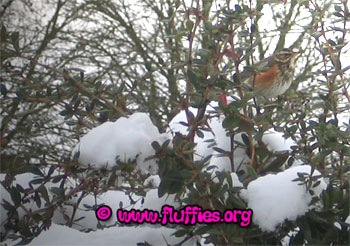 We also saw this redbreast..
A lovely bird indeed..
Zazu remained quiet.. :)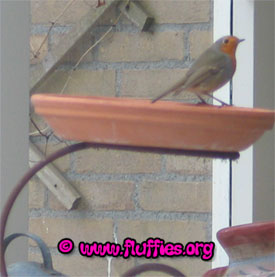 As a reward for not making a sound when I took photos of the 'wild' birds, we went to the play garden.
My friend also participated in a snowball fight with Zazu.
On the last photo, you can probably see a snowball in Zazu's beak. :)


Click here for a movie of Zazu being taught how to make snowballs (1.326 KB)

This adventure ends here.
You can view more adventures by following this link!

---
www.fluffies.org
Copyright © 2001- 2005 All About Parrots & Alles over papegaaien
All About Parrots interactive & Alles over papegaaien interactief
All rights reserved. No content may be used or reproduced without the author's written permission