My first days home..
29 july 2004
On the two photos below, I am home for just an hour or so. I was sooo tired that I could sleep in my mom's hand.
Am I not a sweet lovebird?
Please click on the thumbnails to enlarge the photos!
30 july 2004
Meeting Iago.. He doesn't look like a peachfaced lovebird!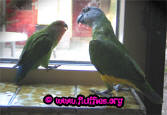 31 july 2004
Mom learned the art of headscritches pretty fast..
I guess she knew us lovebirds already!
Hey! This isn't scratching! Put me DOWN!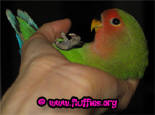 1 august 2004
With my big brother Iago on the playgym outside..
4 august 2004
Sitting in the tree..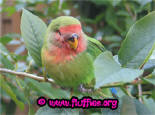 10 august 2004
My first shower together with Iago (Senegal parrot) and Zazu (Leadbeaters cockatoo)

11 august 2004
On the photos below I am meeting Iago again. I really like him.. After all, he's my big brother!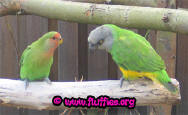 Only he doesn't seem to like me!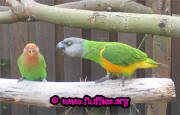 Oh, well, then I leave.. I don't mind.
Do you see my foot lifted on the photo below?
Lovebirds are pretty fast, you know! A lot faster than those slow Senegals LOL!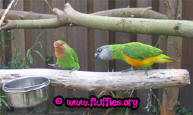 If he doesn't like me, then I can eat his food just as well.
He doesn't want to be my friend, so why should I leave his food alone?!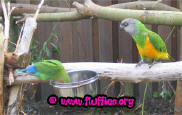 On the photo below I was foraging on the ground..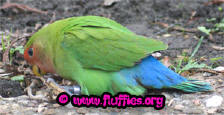 And on the next picture I am studying to become a demolitionbird just like Iago & Zazu!

A family photo.. With Iago & Zazu!
---
www.fluffies.org
Copyright © 2001- 2005 All About Parrots & Alles over papegaaien
All About Parrots interactive & Alles over papegaaien interactief
All rights reserved. No content may be used or reproduced without the author's written permission