Welcome on Bertrina the Senegal parrot's page! They also call me Trina..
Hi Iago and Family,

My parents and I just love your website. We love the
movies, diaries, and information. We are very jealous
though because in America non-human family members are
not usually welcome at restaurants and such. I read
on your website that you do not get to eat very much
cereal because dairy is not good for birds. I think
you should recommend soy milk to your mom. My parents
use soymilk and I just love to sit on their bowls and
drink it out of the spoon--sometimes I have to fight
the spoon though while I am eating. It is very
healthy for birds and people too.


Let me tell you a little about myself. My parents
brought me home when I was only about eight or nine
weeks old. My parents hand fed me too. They thought
I would never get weaned. I had to have my formula
until I was over five months old. My parents are so
ridiculous that they actually thought I was a boy for
the first eight months of my life!!! They even named
me Bertrum. I tried my best to set them straight but
they didn't realize their mistake until they got a DNA
test. Now my name is Bertrina but my parents mostly
call me Trina. Like you, I travel all over with my
parents. I visit both sets of grandparents and I even
went to Florida on vacation. One of the pictures
shows me when I was not very old--you can see my eyes
had not changed color yet. The other pictures are of
me on my gym and me in the shower. I would be
delighted if you would put me on with the parrots of
the world. I will be two years old on December 22 and
I live in Illinois, USA.

Thanks for writing me. I hope we can be penpals!
Yours Truly,
Trina, Steve, and Ginny Daut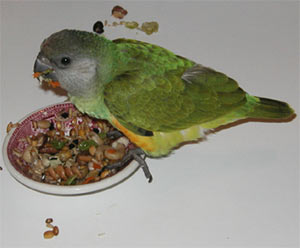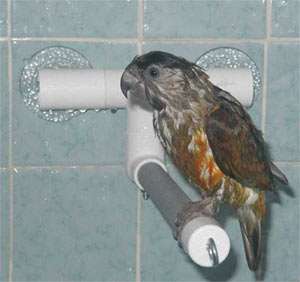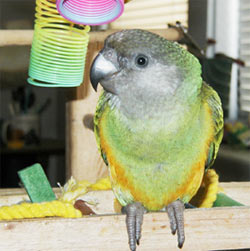 Note that you can now make your own website on the www.fluffies.org interactive site.
The only thing you need to do is to register to start making your own parrot(s)' site!
Just follow this link..
---
www.fluffies.org
Copyright © 2001- 2005 All About Parrots & Alles over papegaaien
All About Parrots interactive & Alles over papegaaien interactief
All rights reserved. No content may be used or reproduced without the author's written permission