Please wait patiently while this page loads..
These photos have been added on september 1, 2004
On the picture below, you can see Roxy, the umbrella cockatoo in the curtains. It looks like she opens them.. :-)
She loves to climb them! :-)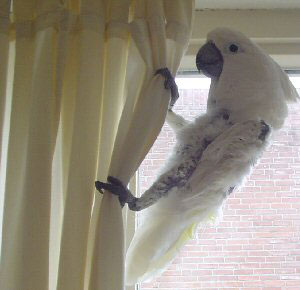 On the next picture, Roxy meets Oinkie, the budgie.. Isn't she huge compared to Oinkie?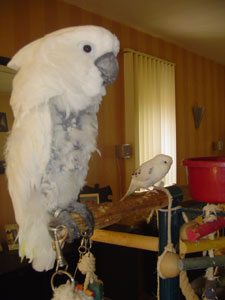 On the picture below, you can see Roxy being chipped.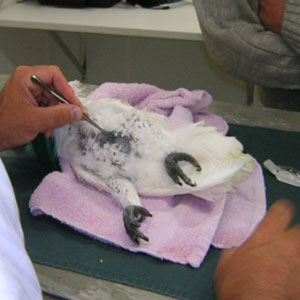 On the next photo, she wakes up.. :-)
She looks a little drunk, doesn't she?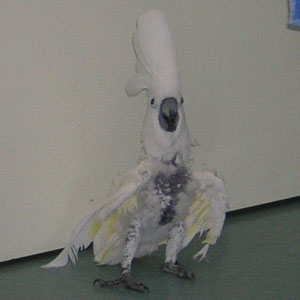 Paco is our new friend here at home!
Paco doesn't live here very long, and he is a most gorgeous cockatoo.
Paco is just one year old and can say a lot of words like:
mama(mommy), papa(daddy), paco, kom maar(come here), lekker(nice), paco paco pacooo ,paco waco and much more!
Paco can also whistle like a toy trumpet..
Paco joins us when we're going out: visiting other people, to the park, children's zoo, play ground etc.
Paco just adores being sprayed and gets very exited when you spray him.
Just like his other familymembers he has a nice play gym in the garden where he loves to hang out.
Paco, the triton cockatoo is taking a shower on the next picture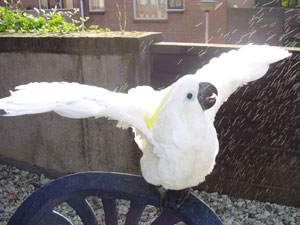 And he obviously enjoys his trip to the play garden!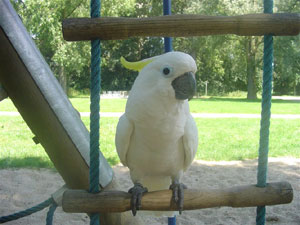 Playing hidenseek with his mommy.. :-)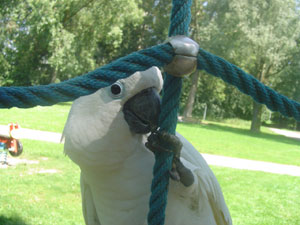 And showing himself to everyone who is interested in his beauty!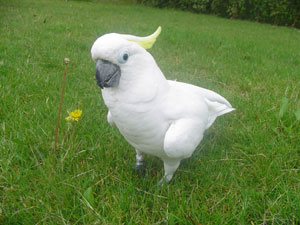 On the next photo, he is sitting high & dry in a tree.. He doesn't seem to have fear of hights!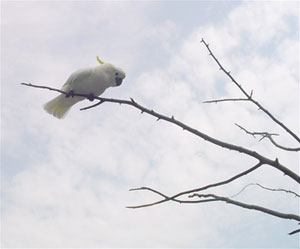 According to his mum, he is the most gorgeous looking triton cockatoo, period! :-)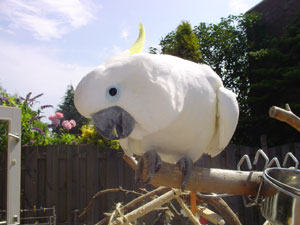 On the next picture, you can see Oinkie, the budgie
Oinkie is about 5 months young, and has been living with his new family for 4 months now.
Oinkie is a very mischievous budgie, with the ego of a macaw!
His mom adopted Oinkie as she thought everything about his was just so cute and small..
Oikie isn't afraid of his larger family members at all..
Oinkie loves to be sprayed! :-)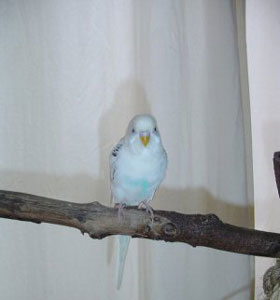 And Oinkie posing for the camera.. :-)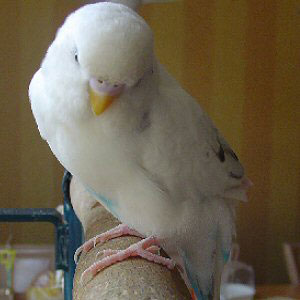 Oinkie meeting Stimpey, the Congo African grey parrot!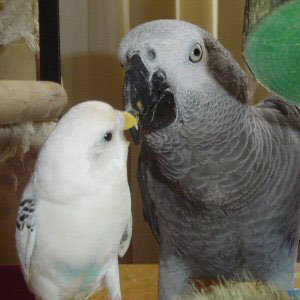 Oinkie tells Stimpey to be careful with his tiny feet..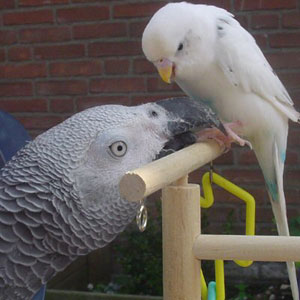 Stimpey leaves to play with Oinkie's bell toy..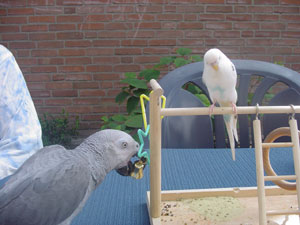 Or to lay on his back, eating his toes LOL!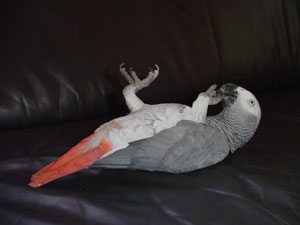 And eating some grape.. :-)

Binky loves grapes, they are his favorite fruit!
Also, Binky loves to hang out on his back. He'll play with his toes while laying on his back.
He loves his outings to the childrens zoo & play ground.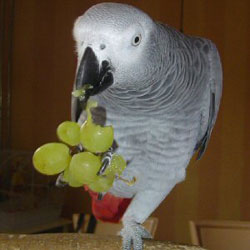 Binky also enjoys to visit the play garden as you can see on the picture below..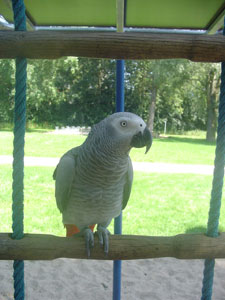 Stimpey is about 1,5 years old now and such a cutie! Stimpey can be handled very well, and he thinks everything is fun and OK.
Stimpey doesn't have his feet anymore as his mother bit them off when he was just two days old.
But without his feet, Stimpey can manage himself very well! He can climb like no other birdy, and run! (LOL!)
Stimpey loves playing with all sorts of things, especially with egg cartons: He'll sit in them and play with them from inside..
Everything that makes some sort of sound or things that rattle are IT for Stimpey!

Stimpey, the Congo African grey parrot is great in his attempt of being an egg.. :-)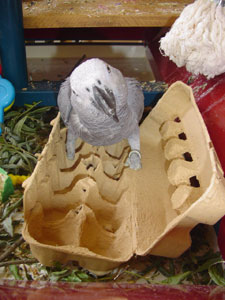 Stimpy loves to play with baby toys!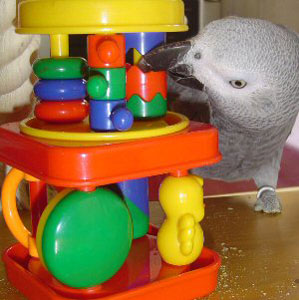 ---
www.fluffies.org
Copyright © 2001- 2005 All About Parrots & Alles over papegaaien
All About Parrots interactive & Alles over papegaaien interactief
All rights reserved. No content may be used or reproduced without the author's written permission