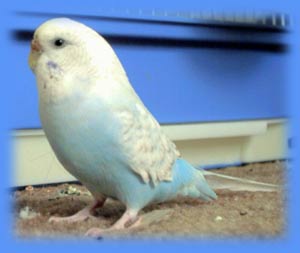 Hi! My name is Jasmine, but Mommy calls me Jazz. I am about a year old now, and I'm a pretty little girl.
(Don't you agree?!)
Please follow this link to hear me chirp!
I live with a budgie named Sapphire Star, or Star for short. We aren't in the same cage yet, but only because mommy wants Start to be tame first. We love each other and we are let out together for supervised play time, during which we chase each other all around… Star recently had his/her well-bird exam and everything's just fine. Star is about 3 months old and is a pied blue and white.
On the photo below you can see Star hanging on Jasmine's cage. (Jasmine on the left, Star on the right)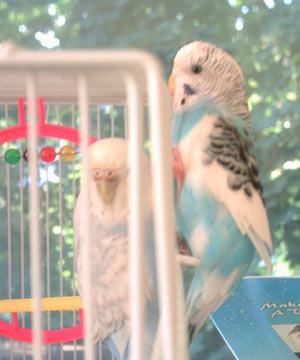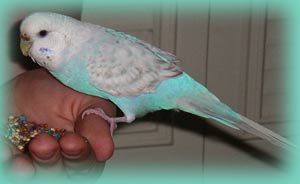 Mommy's been asking me if I want a boy friend, and I usually chirp back at her or go to my food bag and preen the budgie there.
I think Mommy's a little dense sometimes...

I'm a little picky about food, so I don't really have a favorite.
Mommy's going to get me some snack bars that maybe I'll like.
I do eat these fruity things Mommy calls 'pellets'. It took forever for Mommy to get me to eat them!
She had to resort to handfeeding me like I was a chick. Eventually, I gave up. Now I kind of like them..
Please follow this link to go to Jasmine's budgie care page.

My favorite things to do are preen, eat and beat up my toys! I have a swing that I really love, but I was suspicious of it at first. Now I swing on it and preen on it and even sleep on it!
My favorite toy, however, is Mommy's name tag from what she calls "work".
I am clicker-trained to some extent. It's fun, because when I do something, I can get Mommy to feed me seed! I'm in control! I am very curious and I love to learn new things.

I am part of the Budgie Research Group. They analyze what we say and learn about how smart we budgies really are. We talk about everything from food to laying eggs to God! I have had a recording analyzed. Mommy says I'm so smart for talking like I do!
Here are two photos of me surfing the net.
A budgie can surf, you know!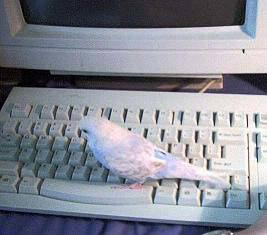 Budgies can also type with 8 toes, just like you with 10 fingers.. :-)
I mastered the skill of typing with 8 toes & my beak.
(Am I not a very smart budgie?!)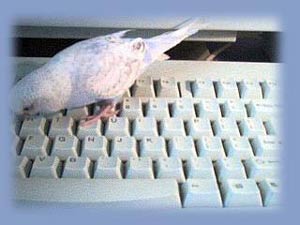 Please educate yourself before bringing a budgie home.. :-)
I am currently reading this book: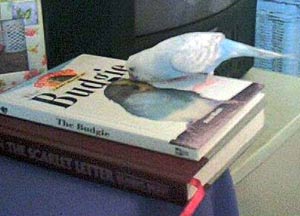 This is where I live: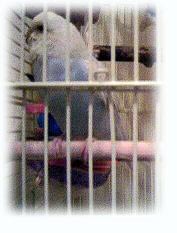 On the next two photos, I am held.. :)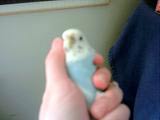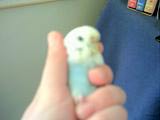 Bye for now!