<![if !vml]><![endif]>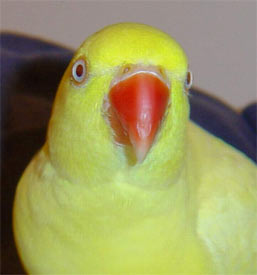 These are some photos of Lielow, a 7 months old Lutino Indian ringneck parakeet or psittacula krameri living in Melbourne, Australia.
On the next photos you can see him in his new cage his human built for him & himself.. (They can both live in it)


He has the house, garage & extension to live in.. :-)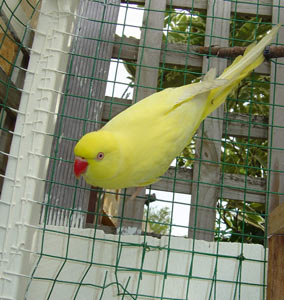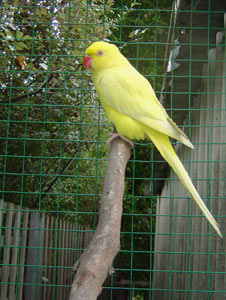 Lielow's dad wrote me: Lielow was hand reared as a 2 week old and then past on to me at 5 weeks of age from Gus at Dr Dolittle Pet Shop.
Lielow's favorite treat is honey and bread mix he get every afternoon and loves his peanuts but there is a limit he gets of that. He also likes to go for a ride on my dogs back chubbs.
Lielow currently is learning very well and couldnít ask for a better attitude for a bird especially with my 6 year old daughter Sonja, who he gets along well and doesnít bite her or anyone. When Lielow feels threatened he screams continually loud until the person or thing has gone if he doesnít like them or it.

I had a close call where my stomach dropped one afternoon, when I went to get Lie low out of the cage to bring him inside and he got out and flew away. I frantically looked for him door knocking asking neighbors if I could search there yards to no avail (this took about twenty minutes), until I heard him screaming in the background of a house 5 doors away. He heard my whistles (that we do together at home and he copies) but he couldnít see me. So l thought l would go on top of my garage and call him and whistle (thinking neighbors must think Iím mad) but to my surprise he flew from nowhere and pass my left shoulder but was going to fast to land on it, instead Lielow landed on a tree next to the garage until I picked him up with great relief and took him inside for a well deserved treat.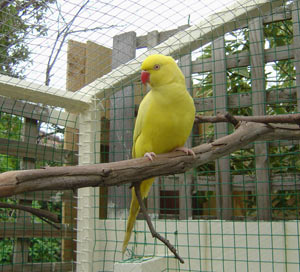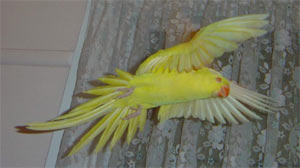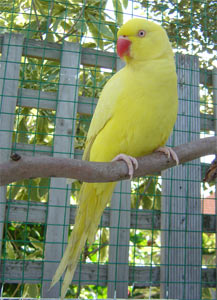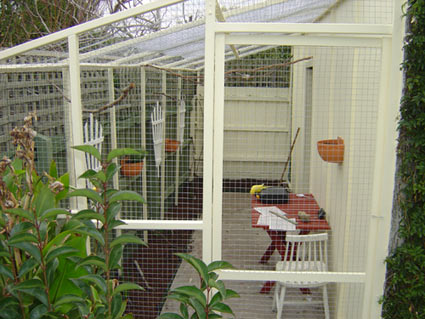 Below is a pictures of the cockatiel aviary.
Please follow this link to read more about the cockatiel aviary & the babies that have hatched there!!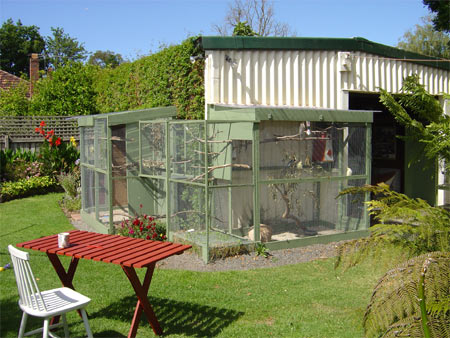 Here are some photos added on 1 september 2004 (Lielow is 9 months old now)

Lielow posse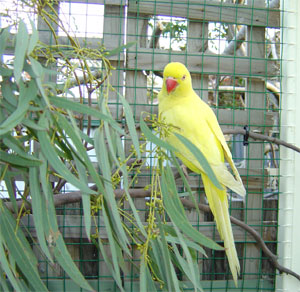 Lielow's portrait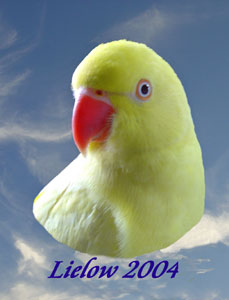 Inspector Lielow.. :-)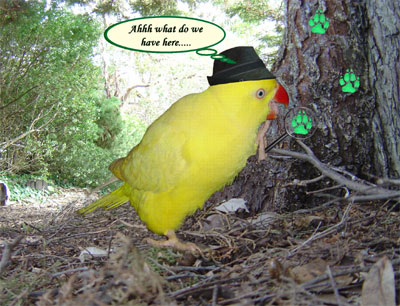 Note that you can now make your own website on the www.fluffies.org interactive site.
The only thing you need to do is to register to start making your own parrot(s)' site!
Just follow this link..


---
www.fluffies.org
Copyright © 2001- 2005 All About Parrots & Alles over papegaaien
All About Parrots interactive & Alles over papegaaien interactief
All rights reserved. No content may be used or reproduced without the author's written permission