Bitty-Boo is "hubby's" Congo African Grey parrot (psittacus erithacus) and I do mean hubby's..
He lets me know this daily.. Even though I'm the servant!
LOL! He does not care for his mommy! :(
But I love him the same..
He has been really talking up a storm lately and some are shocking that I
had no idea he heard!
Just be on guard if you have one!l LOL!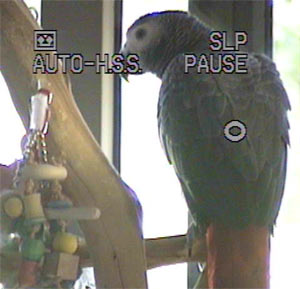 On the next picture, Bitty-Boo is waving "Hi"

Note that you can now make your own website on the www.fluffies.org interactive site.
The only thing you need to do is to register to start making your own parrot(s)' site!
Just follow this link..


---
www.fluffies.org
Copyright © 2001- 2005 All About Parrots & Alles over papegaaien
All About Parrots interactive & Alles over papegaaien interactief
All rights reserved. No content may be used or reproduced without the author's written permission