Tiffany is the biggest LOVE of ours, 13 years old Yorkie.. What a Gem she is! :)
She lost her brother 6 months ago from a bad heart condition.. He was 12 :(
She tolerates all her birdy siblings but really could care
less until Boo CAG (Congo African Grey) imatates her barking!! LOL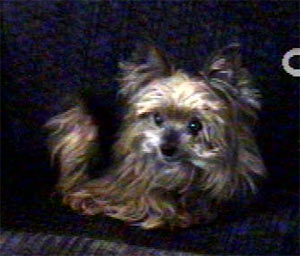 Note that you can now make your own website on the www.fluffies.org interactive site.
The only thing you need to do is to register to start making your own parrot(s)' site!
Just follow this link..


---
www.fluffies.org
Copyright © 2001- 2005 All About Parrots & Alles over papegaaien
All About Parrots interactive & Alles over papegaaien interactief
All rights reserved. No content may be used or reproduced without the author's written permission