Finnigan is a Red Sided Male Eclectus. (eclectus roratus polychloros)
Eclectus are one among the parrot species that are sexually dimorphic. Meaning that you can visually tell whether the baby is male or female just by the coloring of their feathers. The males are always shades of green. The females are shades of red, cobalt blue, purple.
They are both beautiful and stunning!

My male eclectus Finnigan is a doll baby! He is such a sweet sweet bird.
He is my first parrot and I feel so priviledged that he allows me to touch him anywhere. He really is a good good boy! As you can tell I love him more than anything.



I have always had dogs or cats and love them both.
This experience with a parrot has changed me. It really is almost like having a baby. The intelligence of these birds is amazing. I learn something new every day with Finnigan.

I look forward to coming home after work and seeing him. We play, eat, bathe, hang out and do all sorts of fun things together. He is very socialized and will step up for just about anyone.

He has been to an elementary school (grades 1-4), to a vacation bible school, to my work, to an elderly daycare, to pet stores, to the University of Alabama and many other places with me. I enjoy spending LOTS of time with him and taking care of him. He is truly the joy of my life!
On the photo below Finnigan is the eclectus on the left. His tub mate is owned by Lisa Anne on Ekkiechat, his name is Bailey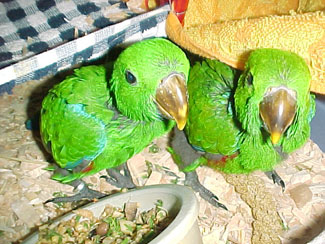 On the next picture, Finnigan is the one in the back 3rd from the left with the most feathers.
All these are boys, of course except 1 little girl, poor thing.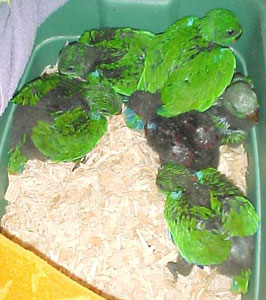 Finnigan hanging out on his boing.. :)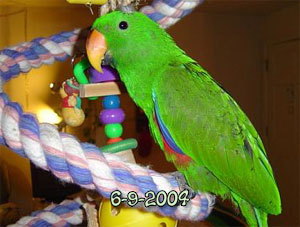 On the next picture, Finnigan shows his play area..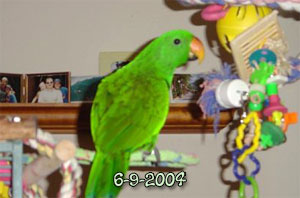 Finnigan is ok in a towel..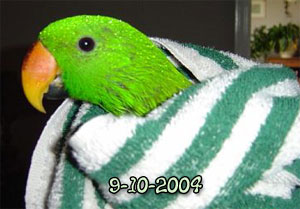 Especially when mom is holding him so gently!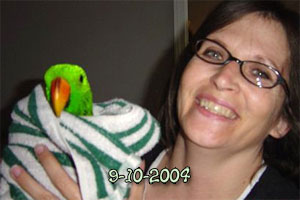 Finnigan has a bird friend: Mercury is 3 years old, and a Congo African Grey parrot, her hatch day is February 14, 2001.
Her slave, Sara and I have loads of fun going to bird fairs together and just hanging out with our fids. We are very careful to make sure both fids are healthy and that they do not come in contact with other fids to ensure this. I met Sara in Petsmart and we've been fast friends ever since. It's great to have someone to share your love of your fid with. She has helped me immensely with Finnigan.
Mercury is fully flighted so when Finny gets testy with her, she just flies away to safety.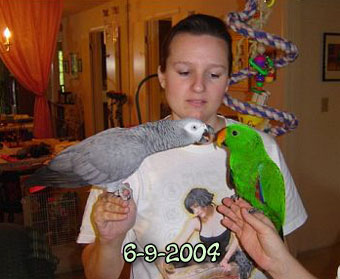 How did my choice fall on an eclectus parrot? (eclectus roratus polychloros)

First of all for some reason I started searching the net for parrots. Researching all the different species, what they are like and if they would fit well into our home. I finally arrived at the Eclectus. I loved the bright green coloring of the male, but also what a lot of people had been saying regarding them.
I joined a couple of Eclectus Yahoo Groups on the web and started asking questions. There are at least 9-10 subspecies of eclectus and for some reason, can't remember now, I decided I would like a red sided male Eclectus.
Then one day I was looking at all my e-mail from ekkiechat and I saw the most adorable picture from Susie Christian of a red sided male that she had. Somehow I knew he was "the one". My husband was like, "how do you know?". I couldn't give him a sufficient enough answer. The only thing I could say was, "I just know."


Finnigan's little egg had been laid on December 22, 2003 during a 6.5 earthquake. Susie told me the hen's usually lay at least 2-3 eggs per clutch. Finnigan was the only little egg laid that day. Susie joked with me that the other 2 most of got scared back up in the hen (Janie) LOL!
Anyway Susie is a great person and has immense experience with these birds. She lets them wean themselves and also lets them fledge. They fly all around until they get ready for their home and she does a small clip.

I was told to let his nails be a little longer than usual. Babies are clumsy and the nail being a little longer ensures a better grip. The rest is history. He is "the one" and has been since I first saw his little prehistoric picture on ekkiechat.

Just today I was allowed by my precious fid to hang out the couch and rub his little feet until he almost fell asleep. He is so very precious to me! He has went through a little nippy phase, but then almost as soon as it came on it went away. I sought the help of ParrotBAS a group for the sole purpose of helping people and their fids live a comfortable life together.

I just want Finnigan to be the happiest parrot he can be and I'll do ANYTHING to ensure his safety, health and comfort.

Please follow this link to see more pictures of Finnigan, the male red sided eclectus parrot

Note that you can now make your own website on the www.fluffies.org interactive site.
The only thing you need to do is to register to start making your own parrot(s)' site!
Just follow this link..

---
www.fluffies.org
Copyright © 2001- 2005 All About Parrots & Alles over papegaaien
All About Parrots interactive & Alles over papegaaien interactief
All rights reserved. No content may be used or reproduced without the author's written permission