<![if !vml]><![endif]>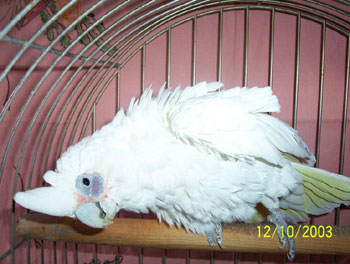 This is what Snoops mom wrote me:

My bird is a bare-eyed cockatoo (cacatua pastinator sanguinea). He is 41 years old. "Snoops" is a very smart bird.

I have owned Snoops for so many years that I can sort of 'read' him and what he tries to tell me sometimes. For instance, about 5 minutes before the big California earthquake, Snoops started squawking real loud and prancing back and forth on his perching stick, he was warning me about the earthquake.
Snoops is a loving bird, he trusts me and is a good judge of character.


One apartment building I had lived in he would screech every time a neighbor came by, I had a Christmas party and she happened to wander in, I didn't know she was there, she wasn't invited. Snoops screeched loud and bought the attention of me, and I caught her going out the door trying to steal a couple of small gifts under the tree. What a grinch she was, huh.
Also, if any strangers even get to my front gate, Snoops screeches to let me know.

Snoops also enjoys dancing to Hank Williams songs. And sometimes he talks in a low voice to me, of course it is only bird talk. I love my pets. He gets along well with my chihuahua dog and Pomeranium dog. Here are some pictures of him, that I had taken. Rachael DeLeon RPD133@aol.com

Snoops, sitting back, taking it easy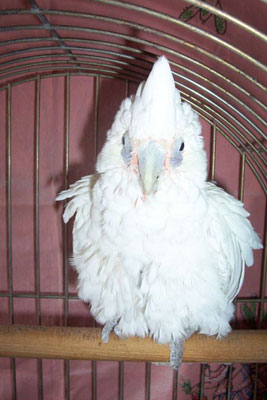 Snoops, putting in a word or two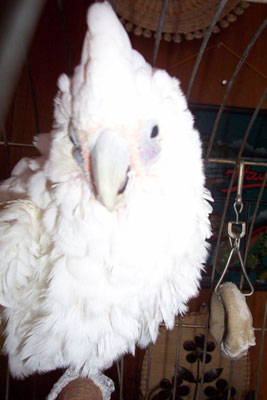 Snoops, just whispering away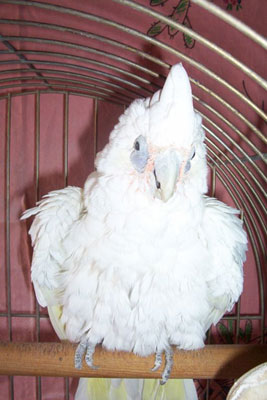 Note that you can now make your own website on the www.fluffies.org interactive site.
The only thing you need to do is to register to start making your own parrot(s)' site!
Just follow this link..


---
www.fluffies.org
Copyright © 2001- 2005 All About Parrots & Alles over papegaaien
All About Parrots interactive & Alles over papegaaien interactief
All rights reserved. No content may be used or reproduced without the author's written permission