The photo below was taken on september 15, she was laying in front of my seat. Doesn't she look like a bunny? LOL!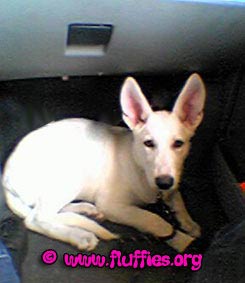 This photo was taken on september 26. We went for a walk, and we layed Nenya down in the leaves. She grew about a kilo a week then, if I am correct.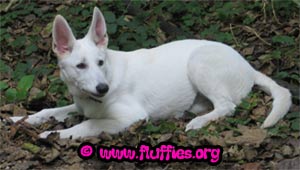 The four photos below were taken on october 25. Nenya had grown a lot since the last time I took pictures of her.
On the photo below she is keeping an eye on what we're doing. :-)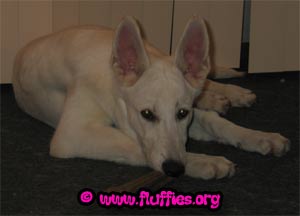 I thought the photo below was pretty funny. She had an itch, and when she tried to scratch, she did it in such a funny way, I had to capture that on camera! :-) She seems to have a hard time finding the itchy spot!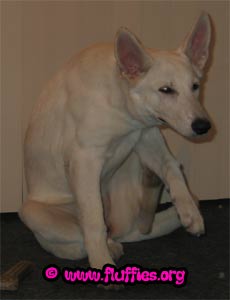 This is what she had been taught: The high five. She'll hold her paw on your hand, when you raise your own hand. Cute isn't it? It was part of the puppy training, where we learned (besides some basic cues) some funny things, like the high five. Our teacher told it was 'compulsory' to teach our dogs some funny things besides the more basic cues, because it would give the dog some variation, and thus keep the training 'fun'.
Nenya enjoyed the 'fun' parts, and it looks incredibly cute!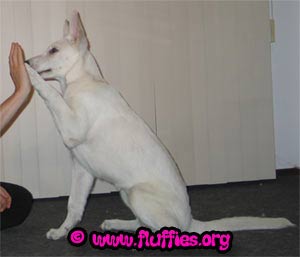 The photo below has been altered with a photo program.. Just for fun!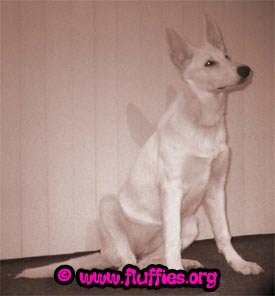 The next photo was taken on october 30: Nenya is yawning showing that she is losing her milk teeth. I enlarged her mouth, can you see the big gaps where her 'grown up' back teeth should appear.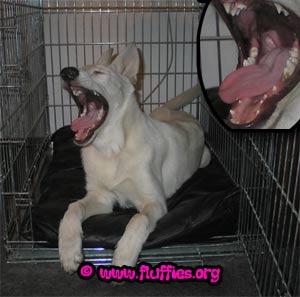 The five photos below were taken on october 30, Nenya was five months old then. She still looks very very young, and her ears are super large. LOL! The breeder told me that the puppies of this litter had very large ears compared to the other litters she had bred.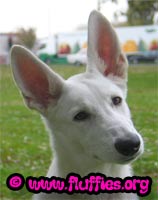 Posing for the camera.. Tired of running on the field.. :-)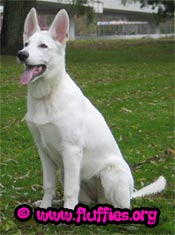 Posing some more.. She looks bigger, doesn't she?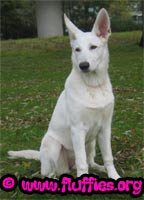 Closing her eyes and make a funny face.. You can see the mark of her collar. She used to wear a leather collar, which coloured her fur a lot. Not much later, I bought a collar of synthetic material. That one doesn't 'stain' her fur.
Nenya always seems to prefer the water outside. Whether it's from a puddle, a lake or a ditch. It doesn't matter how fresh the water in her bowl is, she always LOVES the water outside much more. On the photo below you can see her in front of a puddle, ready to have a drink.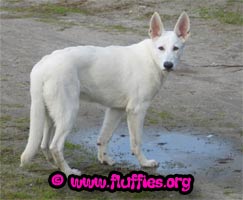 I just love the photo below. It was taken on november 4, and she looks so majestic on it, despite of her age. I also love the leaves in the background, coloured in the shades of fall.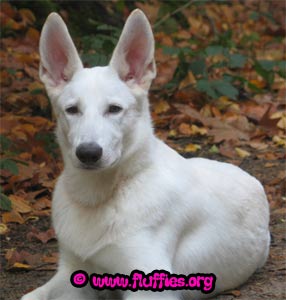 On the photo below you can see Nenya stuffed in front of my seat. She'd grown a lot since the last photo taken on that place. She didn't fit very well at all! The photo shows we have been mistaken when we adopted her: She is not a white Swiss sheperd, but a black sheperd! The photo was taken on november 27, at six months of age.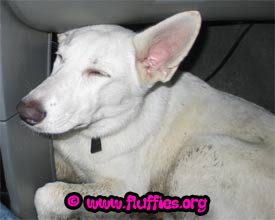 The following photo is dated from december 23, she wasn't pleased at all: She had just had a bath.. I can tell you baths aren't her favourite.. She doesn't like the 'soapy' smell she has afterwards, she much more prefers a stinky, smelling-like-ditch smell..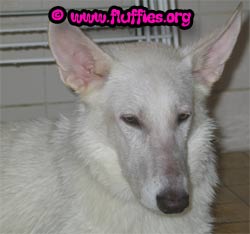 This photo was taken of december 24, Nenya is laying in the kitchen, waiting for her Christmas-eve meal!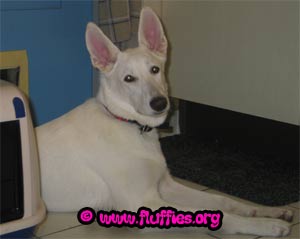 And on the photo below, she is celebrating New Years eve at my parents' The fireworks didn't do her much. She acted like she saw that every day.. :-) (We were kind of afraid that she would freak, but she did not)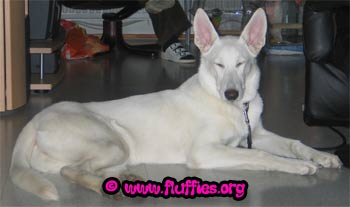 On New Years eve, a lot of snow had come down from the sky.. So on New Years Day Nenya had her first snowy experience.
On the photo below she is retrieving a branch.. :-)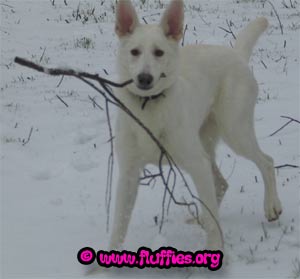 And on the photo below she is posing willingly.. She doesn't seem so white compared to the snow, does she? Perhaps she is a yellow Swiss sheperd dog, LOL!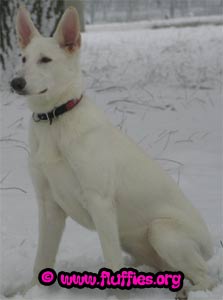 ---
www.fluffies.org
Copyright © 2001- 2005 All About Parrots & Alles over papegaaien
All About Parrots interactive & Alles over papegaaien interactief
All rights reserved. No content may be used or reproduced without the author's written permission