<![if !vml]><![endif]>



It has been snowing here today..

As Flit has never been in the snow, I decided to let him have his first white & cold experience.. :)
Iago went with him as a back up, but Flit didn't seem to need his older brother. (Just like a real dare devil lovebird!)

Flit liked the snow right away, but Iago didn't seem to care..

Please note that they were only allowed to play in the snow for a few minutes.
(Parrot feet aren't protected with feathers!)



Below is a photo of Iago testing the snow..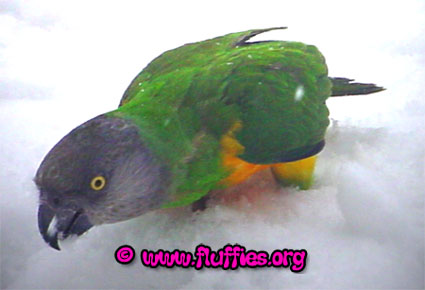 After Iago, it was Flit's turn to tast the snow.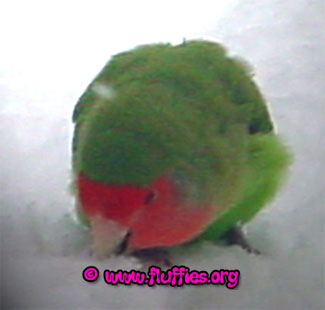 Flit seems to ask his brother: 'What's this cold white stuff, Iago? There's some of it on your beak!'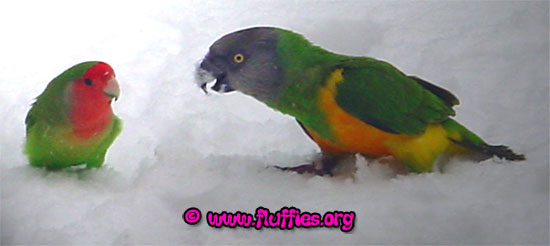 On the next photo, Flit is going to exlore this 'funny white stuff'
Iago stays on one place. He looks a bit indignant as if to say: 'I'm not necessary to back you up!'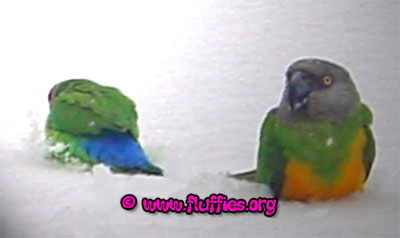 Iago takes off indignantly.
'If you don't need me, I'm outta here!'

On the next photo, Iago falls stretched out..
'Woohooo! I'm tripped up by that stupid snow!'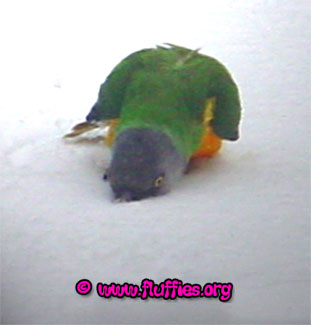 Iago looks a bit irritated on the photo below as if to say: 'What are you looking at?! Don't you ever fall?'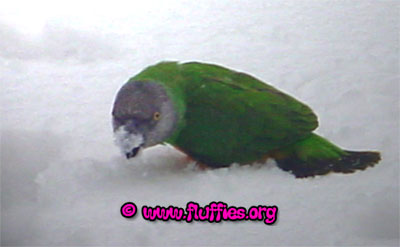 On the next photo, Flit is just smiling as his brother sinks into the snow..
'Hey Iago! You're sinking! Ha ha ha!'
(Iago is the green area left in the photo)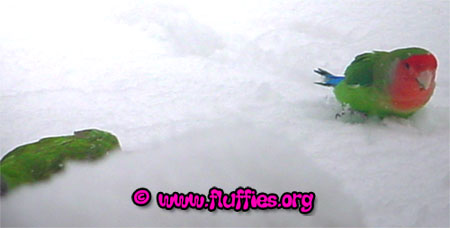 On the next page, the story continues!

---
www.fluffies.org
Copyright © 2001- 2005 All About Parrots & Alles over papegaaien
All About Parrots interactive & Alles over papegaaien interactief
All rights reserved. No content may be used or reproduced without the author's written permission