Flit the peach faced lovebird passed the rainbowbridge,
click here for his memorial page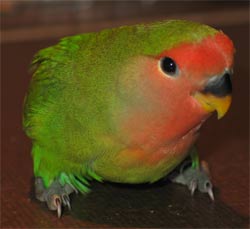 Hii! My name is Flit and I am a peach faced lovebird. (agapornis roseicollis)
My mom made this page in the colour of my feathers.

I was hatched on june 12, 2004 and I am the third bird in the family. I came home july, 29 2004.
I live together with a Senegal parrot called Iago, a leadbeaters cockatoo called Zazu and a white Swiss Sheperd dog named Nenya. Oh and my mom ofcourse!
If you'd like to meet my family, just click there names and you'll be taken to their own webpage.


I came home together with my birth certificate, (Isn't it cute looking?) a birdybed, (in which I refused to go the first evening. But when my mom woke me next morning, she just saw me lying with my head in my birdybed..) a book with lots of lovebird information, some formula, pellets & apple vinegar. :-)
My mom was really packed with all these things when she took me home!

Below you can see my birth certificate!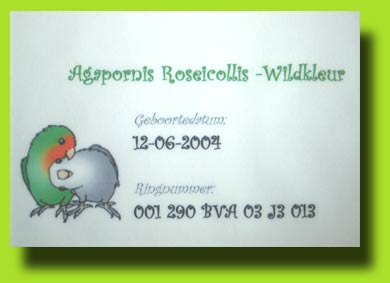 My mom keeps a diary with photos to tell you all about our adventures! She will make a diary entry and add photos from time to time.
On the main page you my mom put information you might want to know before you adopt a parrot but also information you need after adopting a pal like me. I hope she will provide you the information needed to keep your us (and yourself!) happy and healthy.

Now, you can also make your own website in our new interactive part of our website!!
All you need to do is register (It'll only take a minute) to start making your own parrot's website!

Wanna share your thoughts with other parrot lovers? Just go to our new improved webforum. It's always nice to share your interests with other people. :-)
Just register to participate in our webforum..

My mom regularly updates our parrot website, by clicking over here you can view what's new.

I'd really like to hear from you so feel free to email me!
If you'd like to sign our guestbook, please follow this link!

---
www.fluffies.org
Copyright © 2001- 2005 All About Parrots & Alles over papegaaien
All About Parrots interactive & Alles over papegaaien interactief
All rights reserved. No content may be used or reproduced without the author's written permission