New photos of my new family (Paco, the triton cockatoo & Oinkie the budgie) added on 1 september 2004!



So good to see you over here!! My name is Roxy, and I am a 11 years old female umbrella cockatoo. (Umbie, U2) I am called cacatua alba in Latin, someone told me.. I just buy that, I can't speak Latin.. :-)
Before I came to my mommy I lived with other people. I started to pluck my feathers out because I was bored stiff there! I am living with my mommy for 6 years now and I love her very very much!


I have one baby brother called Binky, he is an African grey parrot. (Psittacus erithacus erithacus) Mommy adopted him a while ago and he's quite nice. Sometimes we quarrel but I guess that's just the brother-sister relation. He also loves to tease his older sister (that's me) by biting her tale.. When I let out an earpiercing scream Binky will let my tale alone. At least, for a short while!!

On the picture below we were argueing about the best spot.





Binky loves to hang out in trees... On the picture below he plays hide and seek. Does he think I am stupid or what?! I can see him from miles away!!





Yes Bink! Got you! I am telling mom you're destroying that pretty tree!! Look, here I go, running to our mom and tell her ALL about you misbehaving!
Ha ha ha, on this picture, my brother is falling down the tree

because he tried to get out of the tree before mom could see him! Ha ha ha!
Look at that sneaky Grey parrot sitting on the rocks like he has done NOTHING wrong!!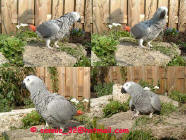 Our mommy added another member to our flock: Stimpey, also a Congo African grey parrot (Psittacus erithacus erithacus) Here are some pictures of him:




Note that you can now make your own website on the www.fluffies.org interactive site.
The only thing you need to do is to register to start making your own parrot(s)' site!
Just follow this link..


---
www.fluffies.org
Copyright © 2001- 2005 All About Parrots & Alles over papegaaien
All About Parrots interactive & Alles over papegaaien interactief
All rights reserved. No content may be used or reproduced without the author's written permission