Here some photos taken during Nenya's youth.. Nenya was born on 26 may 2003.
This page may take a while to load, please wait patiently while this page loads.
I've also added a movie of her, please click the link below to view it. It might take a while to load, but if you have a fast internet connection, it might be worth it.

december 23 2003: Nenya rolling herself dry (1,192 MB)


(Iago calling himself on the background)


The photos below are taken on 17 july 2003, the day of Nenya's homecoming. On the first photo you can see Nenya with her breeder/mommy. She is a very concerned breeder, and asked her if we would take good care of her little girl.. Ofcourse we would.. :-)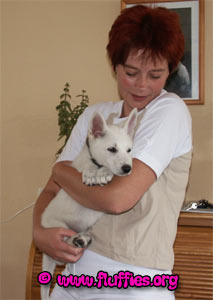 Nenya cried the first ten minutes, as we drove away. I really felt awful, taking her away from her mommy, I felt pretty cruel.. :-(
When we got home, Nenya immediately started exploring the living room. (And almost immediately went potty)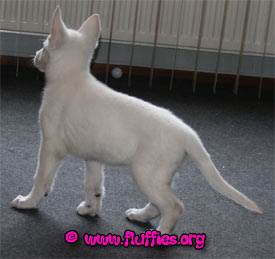 She also explored her own place, the bench. There were lots of toys in it, so she went in there pretty quickly!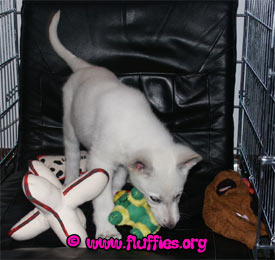 The photos following were taken on july 23, 2003. Nenya was laying in my arms, and I could move every way I wanted: She didn't wake up once! It was sooo cute!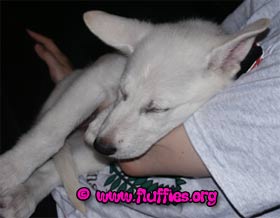 I also took a photo of her in a 'baby bag' I had purchased especially for her: That was because she wasn't allowed to walk long distances at first. When I had to take her somewhere (to socialize her) I had to carry her the way back, because it would be too much for her to walk by herself.
Ahhh, she wasn't very heavy!
Doesn't she look cute in it?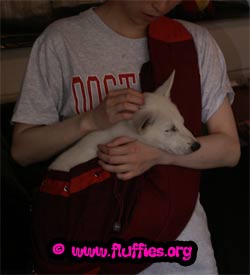 The next three photos were taken on august 3, 2003. Nenya is waking up on the photo below, checking who is touching her toy..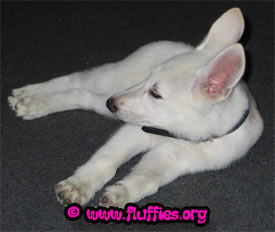 It looks like she is growling but in fact, I caught her yawning. It looks like she says: Stay off my toy, or else you'll meet my milk teeth.. LOL!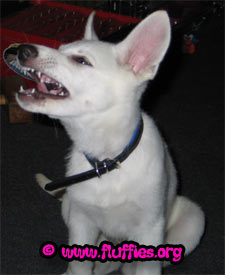 On the photo below, Nenya demonstrates it's HER toy.. She is only twice as big as her toy, LOL!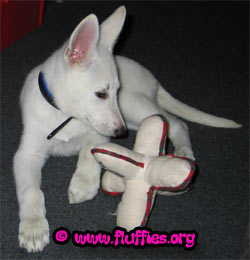 The next two photos were taken on august 10, 2003. On the first photo Nenya is still sleeping. She is looking very lady like, doesn't she? Not!! LOL!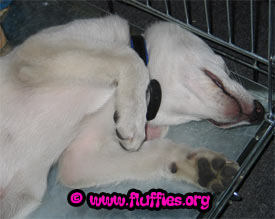 On the next photo she is waking up.. She still looks very sleepy..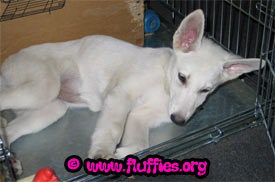 This photo was taken on august 22 2003. After a long walk on the beach, she layed herself down in the cupboard (on a low empty shelf) as if to say: Close those doors and let me nap!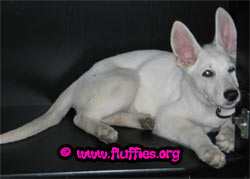 The next two photos were taken on august 24 2003. On the first photo, Nenya was chewing on a chewing stick she had been given by a friend.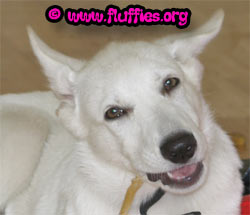 I placed the second photo on this webpage, because I think Nenya is looking incredibly gorgeous on it!! Don't you agree?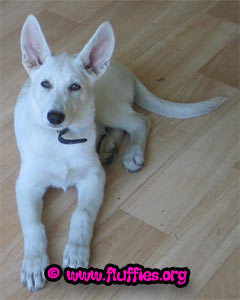 These three photos were taken on 2 september 2003. We went for a walk with the whole furry & feathered family.
On the picture below, Nenya was wondering where we stayed that long. She had run ahead a bit..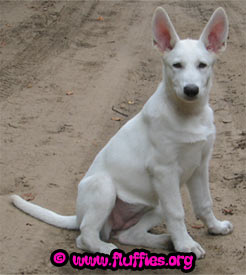 When we sat down to rest a bit, Nenya wouldn't want to sit, she saw too many interesting thing, let alone the interesting sand on her paws, LOL!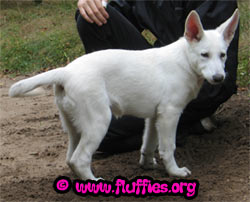 Finally, we talked her into resting a bit. She layed down, but not for very long. What can you expect of a puppy? Well, on the way back, she was really very quiet!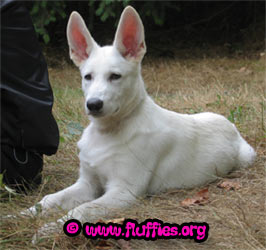 The photos below were taken on 14 september 2003. Nenya is being carried by my friend. He's quite tall, so it might give you an idea of Nenya's size then! :-)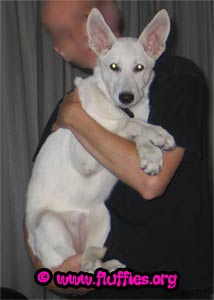 On the photo below he's holding Nenya like a baby.. LOL! She didn't seem to care. Don't you think she's adorable? And those ears! (Those are for listening, which she does ocasionally, or should I say, when she feels like it? LOL!)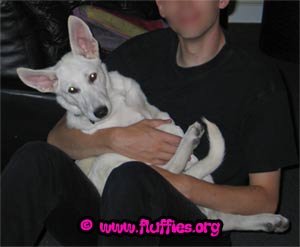 Please click here to go to the next page of Nenya's youth pictures!!

---
www.fluffies.org
Copyright © 2001- 2005 All About Parrots & Alles over papegaaien
All About Parrots interactive & Alles over papegaaien interactief
All rights reserved. No content may be used or reproduced without the author's written permission