<![if !vml]><![endif]>


Want to see more diary entries with photos? Then please click this link!

After some awful days, during which I was afraid there was something wrong with Zazu, I went on a small holiday trip. My sister & I had given our parents a midweek away in the east of the Netherlands.

I drove with my parents, my sister & her friend arrived in the late afternoon. On the photo below you can see Zazu has settled down pretty well. He has made himself at home and is sitting comfortably on his T-stand. You can see a small piece of his wingabago on the sideboard.



On the photo below you can see Zazu having a good time on his T-stand. He is quite busy with the red-blue-yellow baby toy.. :-) On the background you can see the interior of our holiday bungalow.

The next day, my mom became a little bit ill, so she wasn't able to join us on our excursions. We went for a walk in the surroundings and on the photo below you can see my sister's friend acting as a 'perch' for Zazu.. :-)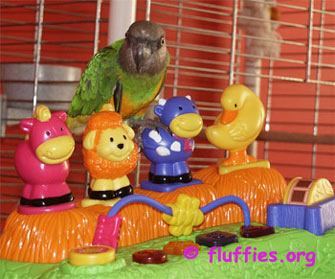 When we were resting, Zazu did some work-out in one of the trees nearby!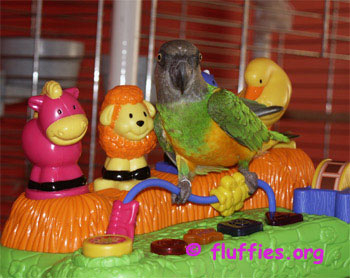 Zazu is enjoying the sun on the photo below. The T-stand I brought proved to be extremely handy. I hang lots of toys from it, so that Zazu wouldn't be bored..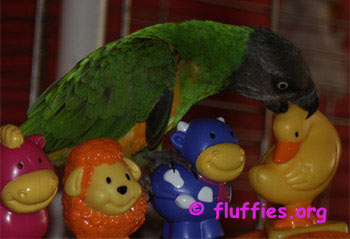 That evening, we went for a walk around the lake nearby. On the photo below you can see Zazu looking at my family walking.. He is resting on a dustbin..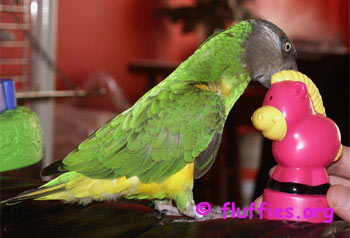 They stopped to swing for a while. Zazu watched from a short distance. He screamed as they'd go up and down, bouncing his head, LOL!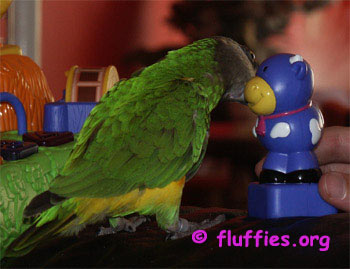 On the photo below you can see Zazu sitting in the wooden 'house' in front of our bungalow. There was a small place in front of our bungalow with a small wooden house,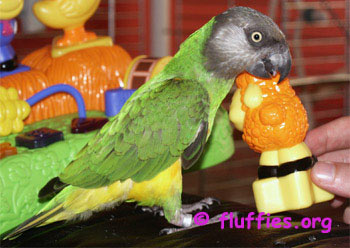 and a sand box.. (Which Zazu enjoyed a lot! He immediately started foraging -for food?- when I put him there.. Our neighbours came out of there bungalow to catch Zazu on film. LOL!)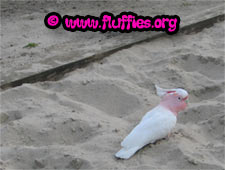 He also sat on this thing. I don't know how to call it in English? It was in front of our bungalow.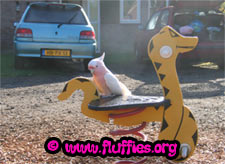 We also decided to rent a tilt-cart.. On the photo below you can see the building from where the tilt-cart company worked. It also was some sort of restaurant.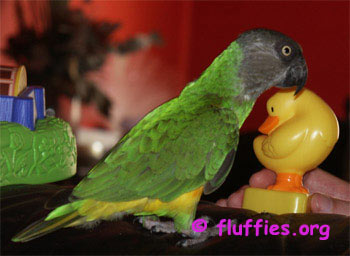 The story continues on page 2!
*** Disclaimer & warning PLEASE READ *** Please note that one should be careful to take his or her birds on outdoor excursions. Wings should be clipped properly and in case of a smaller, lighter built birds, please ALWAYS use a harnass!
If you are not sure if your bird is considered light built, please ALWAYS use a harnass!
The birds on this website are thoroughly trained large parrots. Some of the activities depicted could put smaller, untrained birds in jeopardy.
Also, my parrots are fed a very healthy, organic diet on normal days.
PLEASE only feed your parrot these unhealthy snacks on rare occasions and in VERY small amounts!

---
www.fluffies.org
Copyright © 2001- 2005 All About Parrots & Alles over papegaaien
All About Parrots interactive & Alles over papegaaien interactief
All rights reserved. No content may be used or reproduced without the author's written permission