<![if !vml]><![endif]>


Want to see more diary entries with photos? Then please click this link!

Our horse was called Mira.. When I saw her, I immediately thought she was gorgeous, and the photos don't do justice to her beauty. On the photo below you can see us sitting in the tilt-cart. Zazu also joined us. (I bet you can spot him!)

After some time, Zazu was sitting quite comfortably on the bench inside the tilt-cart. I had closed the tilt, in case Zazu would start to flap & fall out of the tilt-cart! I didn't want this trip end up in a drama..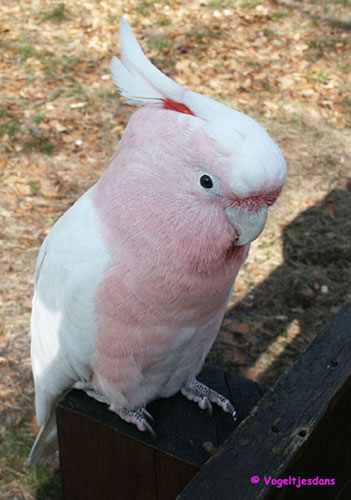 On the photo below you can see my sister & her friend sitting in the front bench, driving Mira.
When I tried to draw their attention, they both looked at the lense of my camera. And guess what, I drew Zazu's attention as well! (As the photo illustrates) He must have thought that it was also meant for him!

On the photo below you can see my sister driving Mira while Zazu keeps an eye on the people sitting in the back of the tilt-cart.. :-)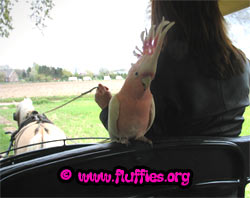 We stopped several times to feed Mira a treat. When we told her to stop, and we gave her the reins, she'd walk to the greenest side of the road anyway, LOL!
On the photo below you can see my sister's friend feeding Mira a treat..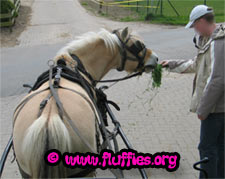 After our trip with Mira & the tilt-cart we went to a small town called 's-Heerenberg. We had a nice drink, and Zazu behaved angelic. He must have been pretty tired of his first trip with a tilt-cart.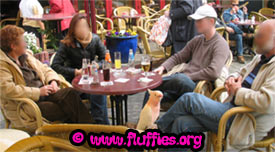 There also was some sort of castle in 's-Heerenberg. On the photo below you can see Zazu sitting on the stairs of a building inside of the castle.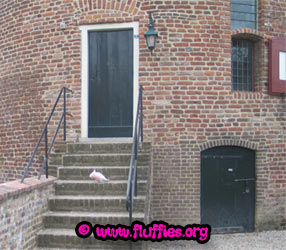 That evening, we played a party game. Zazu was too tired to even try to participate. On the photo below you can see him sitting on his T-stand. What you cannot see (because I resized the photo) is that his eyes are half-closed. :-)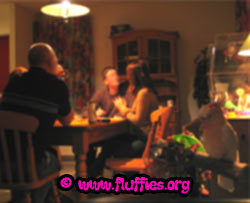 The next day, we went shopping in 'Centro', a huge mall in Oberhausen, Germany. It is said to be the largest mall in Europe. We were close to the border with Germany anyway, and it was only around 70 kilometers drive, so it could be done.
Zazu joined us (as he did the whole holiday, LOL!) and we 'packed' him in the car, sitting in his wingabago.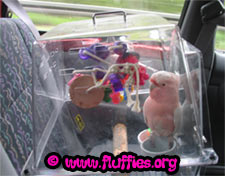 On the photo below you can see him teasing Eyore, though I told him to keep an eye on my sister's car. He is such a bad boy sometimes, LOL!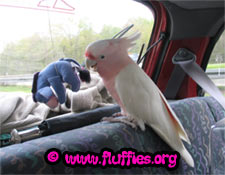 The story continues on page 3!
*** Disclaimer & warning PLEASE READ *** Please note that one should be careful to take his or her birds on outdoor excursions. Wings should be clipped properly and in case of a smaller, lighter built birds, please ALWAYS use a harnass!
If you are not sure if your bird is considered light built, please ALWAYS use a harnass!
The birds on this website are thoroughly trained large parrots. Some of the activities depicted could put smaller, untrained birds in jeopardy.
Also, my parrots are fed a very healthy, organic diet on normal days.
PLEASE only feed your parrot these unhealthy snacks on rare occasions and in VERY small amounts!

---
www.fluffies.org
Copyright © 2001- 2005 All About Parrots & Alles over papegaaien
All About Parrots interactive & Alles over papegaaien interactief
All rights reserved. No content may be used or reproduced without the author's written permission