<![if !vml]><![endif]>


Today we went to the woods and Iago, Zazu and Nenya also joined me on the trip.
The woods were quite warm, I had expected them to be cooler but it was a great hit and Nenya was allowed to run around freely. Zazu couldn't appreciate that and everytime Nenya came running to us, he spread his wings, raised his neck feathers and crest to impress that weirde animal running around and under him. (He sits on my hand all the time)
The light was just perfect so this was a wonderful opportunity to take pictures of Zazu. Usually he ends up white on pictures, when I use flashlight, when the sun in shining, almost all the time! I also shot some pictures of Iago and Nenya but they didn't turn out to be as nice as Zazu's photos this time!!

When we arrived in the woods, Iago was already begging to be taken out of his carrier. He was given some water, the weather was really hot so he really was thirsty! He always drinks from the caps.
After drinking, he immediately showed us why we had to hurry and go for a walk. Nenya had to be walked.
On the photo below you can see Iago sitting on Nenya's leash..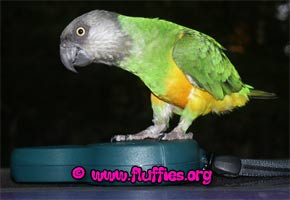 When we had been walking for a while, we put our parrots in a tree. Iago is looking thankful on the picture below.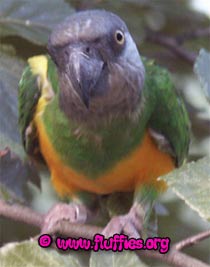 He loves to rip off the leaves and the bark, as he demonstrates on the photo below.. :-) Sometimes, it's hard to spot him in a tree, as I put him on a low branch and he tends to go up up up! I try to choose a tree that doesn't have branches of different levels that are close to each other. In this way, Iago can only stay on the lower branches.
Zazu, however, always tries to climb down to wander around on the ground. He loves to chase little insects.. YUK!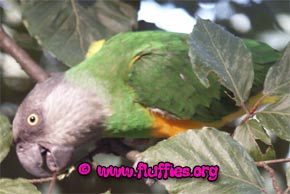 Iago clearly LOVES those leaves. On the picture below he is really gentile with a leave, almost preening it.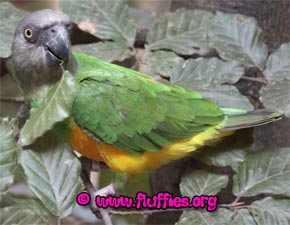 I really love this photo, he looks very very cute on it. Showing that he can be gentile with objects (in this case leaves) as well, instead of ripping everything to pieces. (He is a real destroyer!)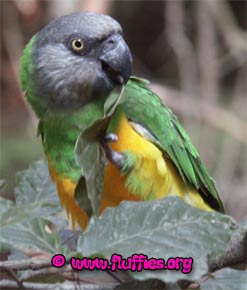 Zazu was really intrigued by the tree I put him in. He didn't have eye for his surrounding...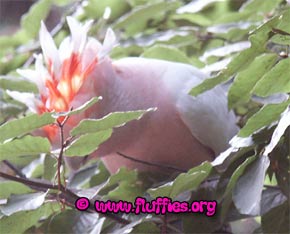 Untill I called his name of course! He immediately responded to that, raising his lovely crest... :-) Just as if to say: I am here, mommy! (And make himself taller to be seen)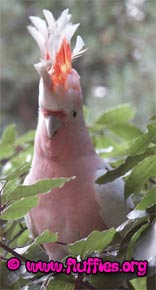 On the next page the story continues, just press one of the buttons below or at the top of this page..


---
www.fluffies.org
Copyright © 2001- 2005 All About Parrots & Alles over papegaaien
All About Parrots interactive & Alles over papegaaien interactief
All rights reserved. No content may be used or reproduced without the author's written permission