<![if !vml]><![endif]>


When she was near me, she really had to yawn of the 'long' way running. :-)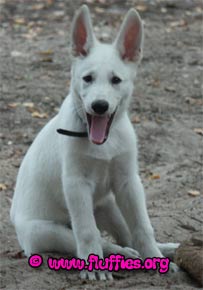 She decided that it was time for some resting again. After all, running around and annoying a pink parrot really makes you TIRED!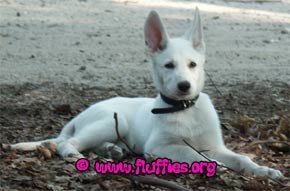 When I called her, she responded. It was time for some dinner, and of course Nenya is one big ear then! :-)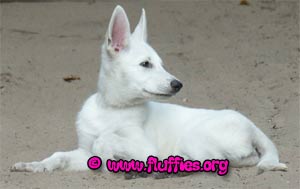 Iago had to check the mene, as shown on the picture below. We ordered him a glass of orange juice, just for him.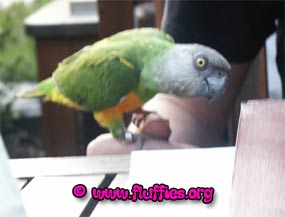 The orange juice was served in a glass especially for him. Normally they serve it in whine glasses, but when I told it would be HIS juice, they decided to give him a low and more appropriate glass..
Iago is testing the orange juice on the picture below, when he had taken a sip, he decided that this juice was good enough for another sip, and another! :-)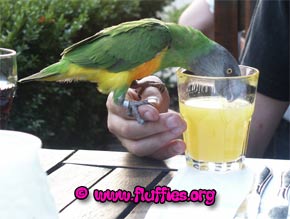 Zazu didn't like it that Iago got nice things, while he, the largest parrot still had nothing to eat of drink! Everyone had something, but he was left out, or so he thought. On the photo below he tries to draw my attention..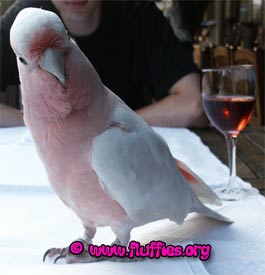 Finally, some bread was served and Zazu immediately claimed his part. He must have thought, finally something for me!!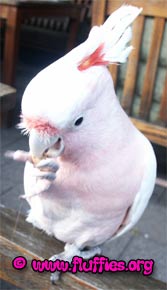 As I was trying to take a picture of Zazu, he tried to steal the stick on my plate.. When I tried to keep him from stealing it, he dropped the stick. I was just able to catch it, else it would have fallen on the floor. By the way, Zazu did get a piece of it afterwards! Maybe you can see that the stick is moving, mind the lower part of the stick. (The lower part of it hasn't been captured very sharp)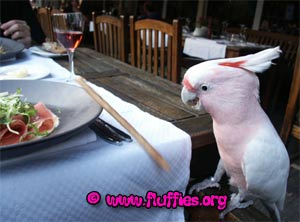 Unfortunately, the batteries in my camera let me down so I wasn't able to take more pictures of the dinner. :-(
Iago loved the bread as well, and both were fed some special lettuce (with some sort of bitter taste) and a piece of the main dish.. A piece of cuckoo (I think my parrots are somewhat cannibalistic, LOL!) a small piece of potato and some courgette. (When I serve courgette at home, Zazu won't touch it, but at the restaurant he DID love it. I think he is somewhat spoiled.
When the dessert came, Iago insisted on receiving his part, so I gave him a really small bite.. He then begged for more but desserts are not for tiny parrots, I told him. :-)

A day like today is pretty exhausting for the whole family so after a nice shower Zazu napped in his cage and dried before I put him in his sleeping cage..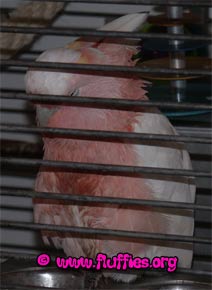 After this kind of treat days I usually put my fids back on their healthy diets, with no unhealthy exception. I think a party once in a while won't harm them.. :-) The day after this day, they were also treated very nicely, because we paid Frank a visit. :-)
---
www.fluffies.org
Copyright © 2001- 2005 All About Parrots & Alles over papegaaien
All About Parrots interactive & Alles over papegaaien interactief
All rights reserved. No content may be used or reproduced without the author's written permission