<![if !vml]><![endif]>


Zazu joined me on a trip to Amsterdam. (Our capital) I had to pick up some clothes that were supposed to be made for me then.. :-)The store was just in the centre so we were able to make it a small trip!

Some people were very amazed that Zazu was real! Other people would almost put their fingers in Zazu's eyes, as they tried to point Zazu to their friends.. (Luckily, Zazu didn't respond to any of this) Also, people asked me if he'd talk and if he wouldn't fly away. During shopping, somebody called out: Oh what a lovely macaw! (Zazu's ego got a big boost) Later someone called: Oh what a nice parakeet! (And away was Zazu's boosted ego!)

*** Disclaimer & warning PLEASE READ *** Please note that one should be careful to take his or her birds on outdoor excursions. Wings should be clipped properly and in case of a smaller, lighter built birds, please ALWAYS use a harnass!
If you are not sure if your bird is considered light built, please ALWAYS use a harnass!
The birds on this website are thoroughly trained parrots. Some of the activities depicted could put smaller or/and untrained birds in jeopardy.
Also, my parrots are fed a very healthy, organic diet on normal days.
PLEASE only feed your parrot these unhealthy snacks on rare occasions and in VERY small amounts!



On this photo you can see Zazu on the train station.
He's in front of the time tables & the map of the Netherlands, indicating all the train stations.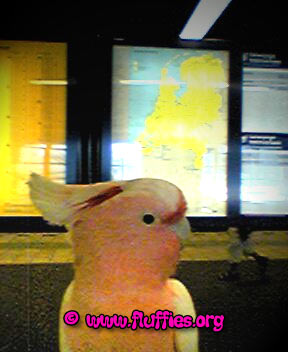 On the photo below, you can see Zazu travelling by train. He's reading a magazine or something.
Some tourist brochure perhaps?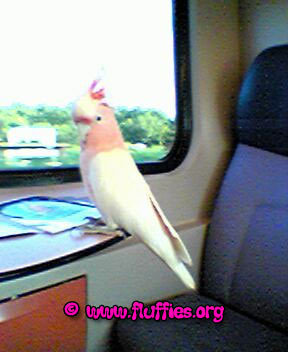 After picking up my clothes, we sat down on a terrace on the Leidseplein.
Zazu was quietly looking around until our bread rolls were served! He wanted to have some too!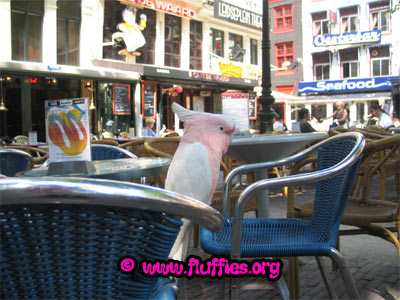 Next, we walked a bit through town.
On the photo below you can see Zazu on the Dam (And its doves LOL!), a famous square in Amsterdam.
If you look closely you can see Madame Tussaud in the background..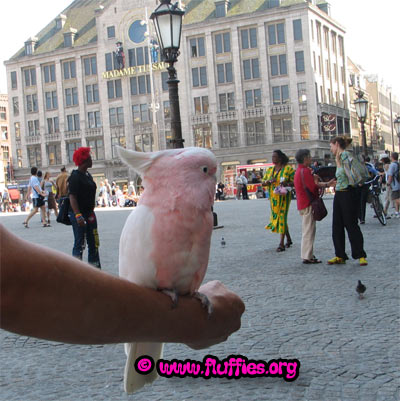 Next, you can see Zazu shopping in a cannal full of 'boatshops'..
They sell all kinds of touristic things, from tulip bulbs till windmills & wooden shoes!
Zazu is looking at the wooden windmills. He didn't get any, as he'd break them in a second!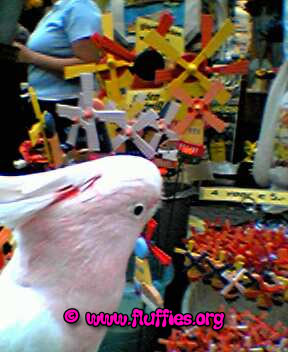 In the Leidsestraat (a street famous for its stores in Amsterdam) we saw this huge wooden shoe.
I was able to put Zazu in there, for a nice 'touristic' photo.
Zazu gladly poses on the photo below.. :-)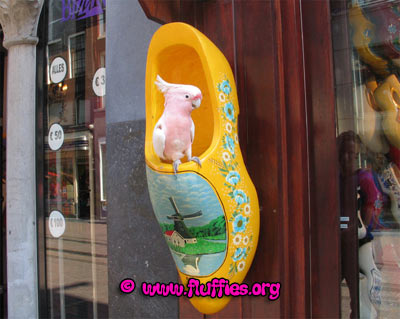 On the next page, the story continues!
---
www.fluffies.org
Copyright © 2001- 2005 All About Parrots & Alles over papegaaien
All About Parrots interactive & Alles over papegaaien interactief
All rights reserved. No content may be used or reproduced without the author's written permission