<![if !vml]><![endif]>


Next, we sat down at a cafe that looked over the tour boats. (Boats that would show you Amsterdam by taking you through the cannals)
At the right of the photo below, you might be able to see Amsterdam Central station (the brown coloured building)
As we sat there, I wondered if Zazu would be allowed to join us on a trip on one of these boats.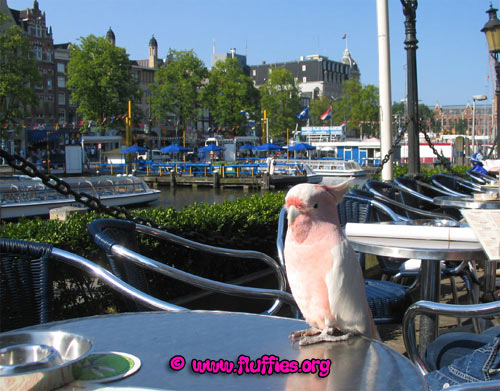 On the next photo, you can see the tour boats a little better.. :-)
Zazu has just finished his drink.. (Just kidding)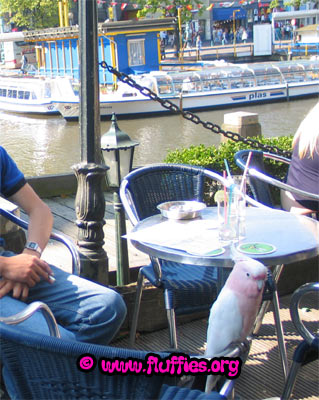 After we finished our drinks, we walked towards the boats and asked one of the employees if Zazu could join us.
He was greatly interested in Zazu, and told us we could just take Zazu.
On the photo below you can see Zazu in front of the ticket office.
At the right you can see people waiting to get in the tour boats.
On the next photo you can see Zazu being VERY interested in the children sitting in front of him.
They had something to eat, and he tried to draw their attention by waving his foot, and saying 'Hello'.
They didn't get the hint though! Poor bird! LOL!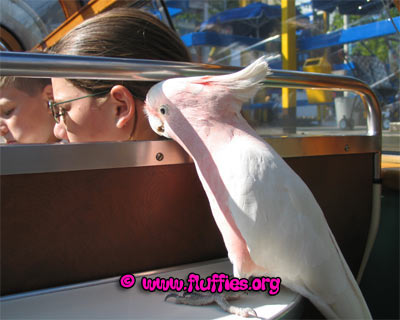 Zazu really enjoyed the tour, though eye lids began to shut after some time!
Here are some views from the tour:
The seven bridges over the 'Reguliersgracht'
On the next page, the story continues!
---
www.fluffies.org
Copyright © 2001- 2005 All About Parrots & Alles over papegaaien
All About Parrots interactive & Alles over papegaaien interactief
All rights reserved. No content may be used or reproduced without the author's written permission