<![if !vml]><![endif]>


Want to see more diary entries with photos? Then please click this link!


This day, it was parrots day in a Dutch ZOO. This day was organized by the a Dutch organization that stands for the concerns of (companion) parrots. They try to educate (Dutch) people about successfully keeping (companion) parrots. Chairman is my avian vet.
On this day, people were allowed to take their tame companion parrot into the ZOO, and so get the ticket to a reduced fee. (50 percent off!) One of the purposes of this day was, to show that companion parrots are a member of the family, and should thus be treated that way: Outings to a ZOO, shopping, biking etc etc.
I was quite nervous in advance, I think I didn't know what to expect, and if my parrots would behave well, etc.
Wendy & Lilo (severe macaw) joined us on our trip to this wonderful day.
On the photo below, you can see Lilo climbing on Iago's wingabago. If you look closer, you might see Iago in his wingabago. He's hard to spot, because of the sunshine in his wingabago.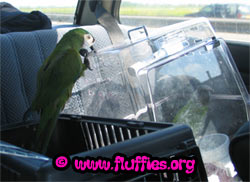 When we got there, we spotted the only cockatoo (besides Zazu) we would see on this day. His name is Paco, and his mommy is a regular visitor of a Dutch group I'm a member of.
Paco is a wonderful triton cockatoo.
On the photo below you can see Paco sitting on his mommy's hand. She's holding the leash to his harnass.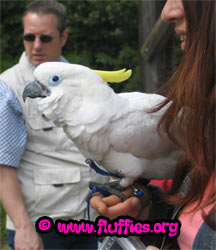 On the photo below you can see Wendy (I've got her face blurred off for her own privacy) & Lilo. Lilo is quite interested in all the people walking by. Or that's how it seems!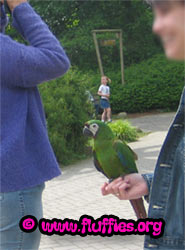 There also was a large flight with macaws & other birds in it. The photo below was taken when four green wing macaws gathered. If you look well, you might be able to spot the fourth green wing macaw!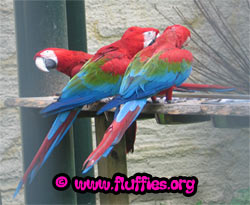 On the next photo, Zazu is sitting on an information board, showing that these are polar bears. If you look in the back, you might be able to spot the bears..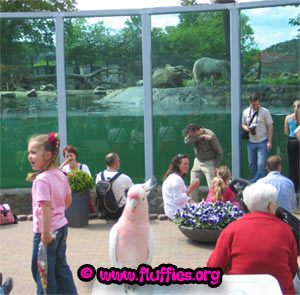 Iago is posing in front of a bear on the next photo. These bears have been rescued from circuses where they have been mistreated. (Ring through their nose etc)
They have been given a better life in this ZOO.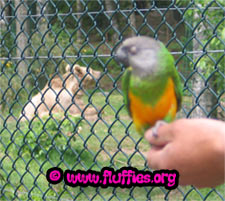 On the photo below, you can see someone I know from a Dutch parrot group. She is posing with Chico & Pino (Both African grey parrots) and her new baby, Harley. (A harlequin macaw)
Harley is one of the few macaws, I've ever perched on my arm.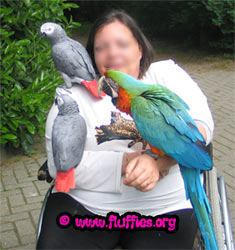 As we walked further, we also saw two persons with their African grey parrot friends Jodocus & Kwiebus. They carried them on perches, what an idea!!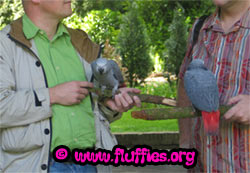 Next, we met Pablo (the blue and gold macaw) and we put them all on a bench: You can see the two greys from the previous photo sitting next to Pablo, and Lilo (Wendy's severe macaw) sitting next to them. Zazu is sitting a little lower.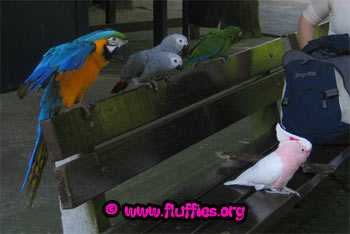 The story continues on page 2!

---
www.fluffies.org
Copyright © 2001- 2005 All About Parrots & Alles over papegaaien
All About Parrots interactive & Alles over papegaaien interactief
All rights reserved. No content may be used or reproduced without the author's written permission