<![if !vml]><![endif]>


Want to see more diary entries with photos? Then please click this link!


After taking some photos of all the parrots on the bench, we walked further and met this cute little Senegal parrot. He joined his big blue and gold macaw friend, I forgot both their names.. :-(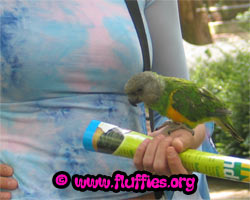 We also met this gorgeous amazon parrot. You cannot see it on this photo, but this amazon really was gorgeous! His feathers were so beautiful, and his head was so cute looking! He is one of the most beautiful amazon parrots I've ever met, that's for sure!
His mommy was carrying his around with the top of his cage.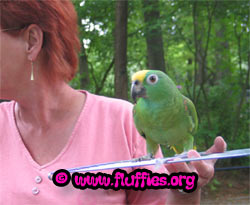 On the photo below, Zazu is trying to sneak into the photo as I try to capture Iago on a photo with the giraffes. That little stinker!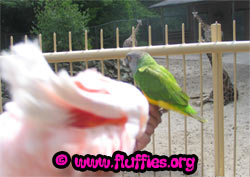 On the next photo, you can see Zazu got what he wanted.. His very own photo with the giraffes..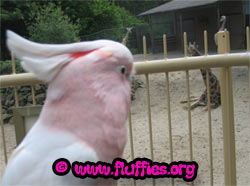 This was something I just had to share: A lady brought her cockatiel to the ZOO. It was the only cockatiel I have seen on this day, and he was just gorgeous and super sweet!
You can see Lilo in the right of this photo..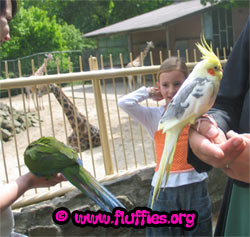 When you entered the ZOO, there was a play gym where people would gather. My avian vet was located there, to educate people and answer questions regarding all sorts of questions.
On the photo below you can see the gym, with some African grey parrots on it..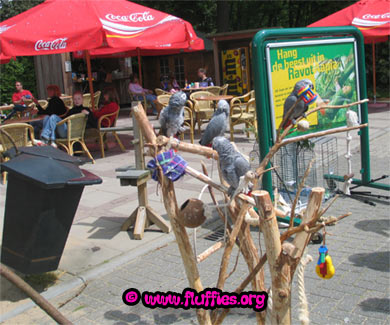 There was some sort of extension, and there, an African grey parrot sat there with his amazon parrot friend..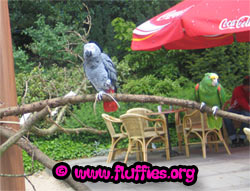 The lady, who made Zazu's cage (stainless steel one) had also come with her three African grey parrots: Filou (a very special grey parrot), Giorgio (I don't know if this is the right spelling) and her new grey parrot. (I don't know his name at the moment)
They were joined by their blue and gold macaws, Biuri and Oscar.
They travelled on a very special vehicle: An attribute that is used to support elderly people with walking, but then wrapped in rope. What an invention!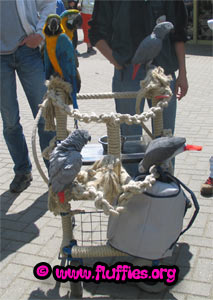 On the next photo you can see the side of it, isn't it great?
Read more about these ladies on this page..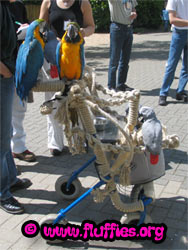 The story continues on page 3!

---
www.fluffies.org
Copyright © 2001- 2005 All About Parrots & Alles over papegaaien
All About Parrots interactive & Alles over papegaaien interactief
All rights reserved. No content may be used or reproduced without the author's written permission