<![if !vml]><![endif]>


Want to see more diary entries with photos? Then please click this link!


Next, we met this beautiful Senegal parrot named Mickey. He or she was 9 (?) years old or so and gorgeously looking!
Tica, the blue fronted amazon was gorgeous too, he or she was around 14 years of age.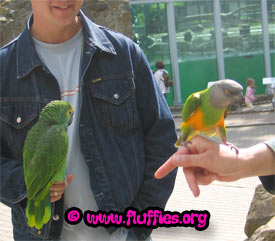 When we saw this funny thing, we just had to take some photos. On the photo shown below, you can see Wendy & Lilo (severe macaw) looking through the holes.. It is a miracle that these pictures came out well as I was giggling while taking these photos. (Which caused the camera to move a lot)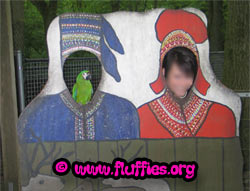 I also decided to take a photo of Iago & Zazu posing in this funny thing. Iago looks quite insulted, as he discovers I'm making a fool of of him. Can you see that offended look on his face as he is looking to the painture on the board? :-)
Zazu doesn't seem to care, he already knows he's mommy's clown.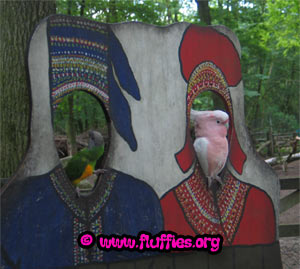 To make it up, Iago & Zazu were allowed to pick a something in the souvenir shop. Lilo succeeded in finding a nice toy, but Iago & Zazu couldn't find anything to their liking. Too bad! Maybe next time!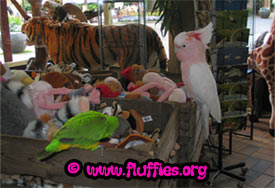 On the photo below, Zazu is looking at his far relative, the emu.. :-) He must have thought this bird had out of line proportions, compared to him, LOL!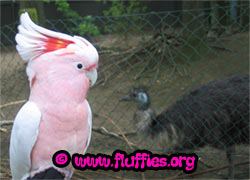 Next, we went to the panther residence. One of the panthers was awake now and very interested in Lilo & Zazu as you can see on the photo below. I had put Zazu on the edge in front of the glass so that he could look at the panther residence. That woke the predator, and he came to the glass.. Both birds weren't afraid, they weren't even aware of the fact that this cat would be dangerous if not restrained!
Note that there was absolutely NO chance that they could fly into the panther's residence.
Both birds weren't afraid at all. There was a rocking horse that was scarier than this big cat!
If you click here you can see a video.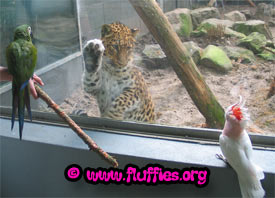 On the next photo, Zazu walked towards Lilo and Mr. Panther tried to hit Zazu with his paw. To no avail.. Zazu was looking at the panther as if to say: How dare you!
On the photo below, Zazu is looking Mr. Panther in the eye as if to say: "I am not afraid.. And the thing you did just the other minute was not funny! Next time you do that I'll give you a tongue piercing.."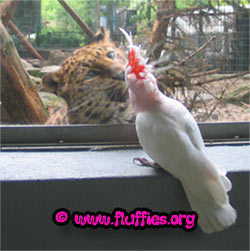 Mr Panther didn't show Zazu any respect and started scratching at the glass. Zazu wasn't impressed, and laughed at that silly panther..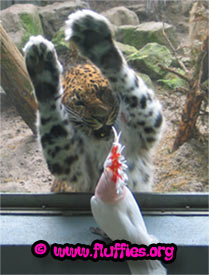 In a final effort, Mr. Panther showed his fangs. (Can you see them?) To no avail.. Zazu must have thought: I have two very very powerful fangs: My beak! :-)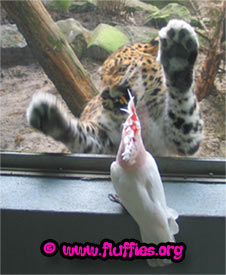 I've also made a short video of Lilo & Zazu teasing Mr. Panther.
Please click here to see that video! (880 KB)

The story continues on page 6!

---
www.fluffies.org
Copyright © 2001- 2005 All About Parrots & Alles over papegaaien
All About Parrots interactive & Alles over papegaaien interactief
All rights reserved. No content may be used or reproduced without the author's written permission