<![if !vml]><![endif]>


Want to see more diary entries with photos? Then please click this link!


Next we visited a pool with a glass 'wall' in front of it. In this way, you could see the duck like birds in it diving.
Lilo (right) enjoyed scaring the duck just with her appearance. However, it came back every time it had been swimming away.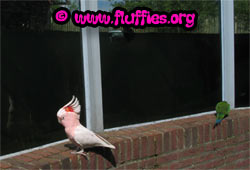 Iago wanted to see those ducks diving as well. On the photo below you can see him getting some explanation from his younger brother Zazu.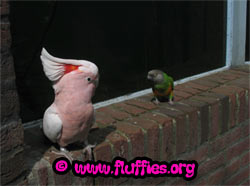 On the photo below, Zazu is looking at the monkey's residence. He thought it to be one big play gym, just for him. Too bad, Zazu! It is already occupied!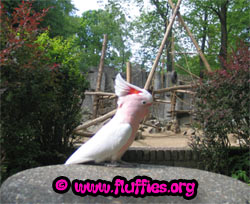 Next, we went to see the big cats. On the photo below you can see him looking at two lynx.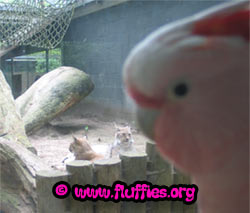 Next were two lazy panthers. They had a nice nap..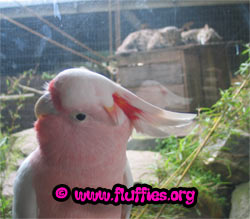 On the photo below you can see Zazu looking at a red panda. They were lying somewhere untill the caretaker entered their residence and started decorating their place with food. It was then when they became active.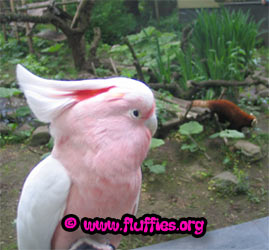 On the next photo you can see Zazu looking at his feet after seeing polar bears from a shorter distance than earlier this day. He must have thought they were pretty big! And also white, just like him.. :-)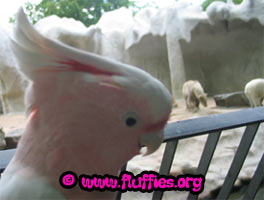 On the next photo Zazu is preening in front of a pool full of flamengos. He must have felt insecure: Being around such beautiful pink birds made him aware of the fact he has to do something to stay gorgeous.. Preening!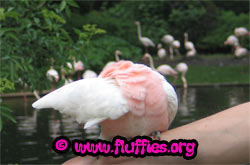 On the photo below, Zazu is just done preening. His older brother Iago also gets a quick view of the flamengos and compares them with his brother.. :-)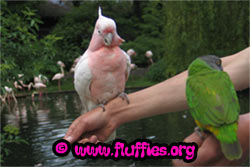 Next, we went to have an ice-cream.. Lilo and Zazu decided to raid the ice-cream car. They couldn't figure out how to open the car though!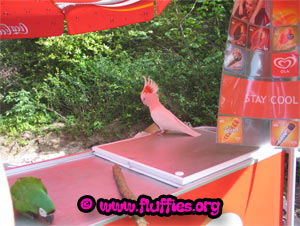 Iago, on the other hand, was much smarter.. He waited untill we got an ice-cream and did a trick to get a bite. Smart bird!
Note that Iago is fed a very healthy diet on normal days. This was just an extraordinary trip and therefore he was given a small bite.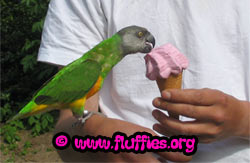 The story continues on page 5!

---
www.fluffies.org
Copyright © 2001- 2005 All About Parrots & Alles over papegaaien
All About Parrots interactive & Alles over papegaaien interactief
All rights reserved. No content may be used or reproduced without the author's written permission