<![if !vml]><![endif]>


Want to see more diary entries with photos? Then please click this link!


Sunday, 20 june the annually parrot & parakeet walk was held. As every year, it was held in the Dellen, in the province of Gelderland. It was a long way drive, and it was the first time we would go! There was an opportunity to sit down for a picnic and to chat with other parrot mums & dads, but also to join a walk with other parrot owners.
This day was especially for patients of my vet's clinic.
The weather forecoasted was extremely bad (though we didn't have any rain!), yet many people had come. I heard from someone who had visited this picnic last year, that half of the people had come this year.. :-((
*** Disclaimer & warning PLEASE READ *** Please note that one should be careful to take his or her birds on outdoor excursions. Wings should be clipped properly and in case of a smaller, lighter built birds, please ALWAYS use a harnass!
If you are not sure if your bird is considered light built, please ALWAYS use a harnass!
The small birds on this page not wearing a harnass are WELL TRAINED and under DIRECT SUPERVISION of an AVIAN VET who was PRESENT at that day!
The birds on this website are thoroughly trained parrots. Some of the activities depicted could put smaller or/and untrained birds in jeopardy.
Also, my parrots are fed a very healthy, organic diet on normal days.
PLEASE only feed your parrot these unhealthy snacks on rare occasions and in VERY small amounts!


On the photo below you can see some persons digging, trying to make a simple outdoor play gym. Zazu is keeping an eye on them..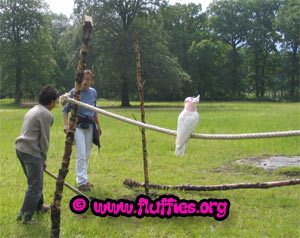 Soon, more parrots joined the tree as it had been finished. Not to Zazu's liking. After his encounter with Harley Zazu has more respect for other parrots. So also for this galah or rosebreasted cockatoo!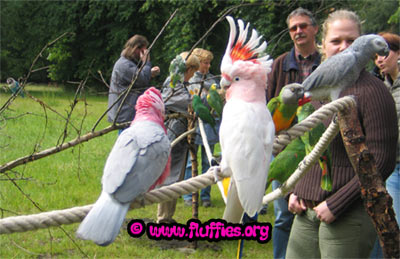 The poor galah didn't want to quarrel at all, he was just being cute, showing of his beautiful crest!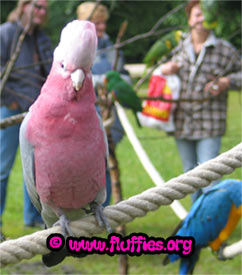 Next, Zazu met some green & grey parrots (amazon parrots). They didn't scare him too much.. :-)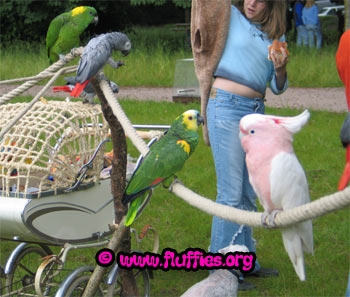 A goffin cockatoo (cacatua goffini) impressed Zazu more. He was seeking comfort with his big brother Iago. (sitting on the left and not impressed at all!)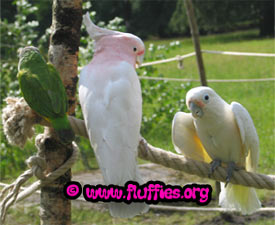 Click here to see a movie of the atmosphere on the play gym (1.019 KB)
Villafilou was present as well, together with their 5 parrots. Oscar & Biuri, the blue and gold macaws, and Filou, Giorgio & ??
Villafilou sells parrot safe stuff, I bought Zazu's cage there, and I am still very satisfied with it. It's made of stainless steel. Iago will also get a stainless steel from Villafilou.
Click here to see a movie of Biuri & Oscar quarreling (645 KB)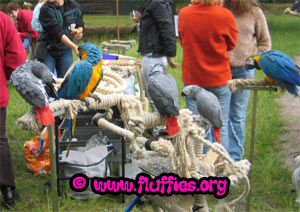 This cute little Senegal parrot (poicephalus Senegalus) arrived in a basket, specially adapted for him. Doesn't it look like a limo? ;-)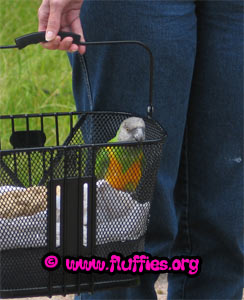 This cockatiel had a special place to sit. His dad had made him a perch, attached to his belt. It was super handy, and the cockatiel was quite willing to pose in front of the camera! (So was his dad)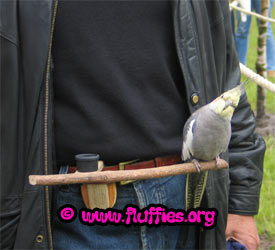 Ofcourse, there couldn't have been a picnic without the parrot buggy!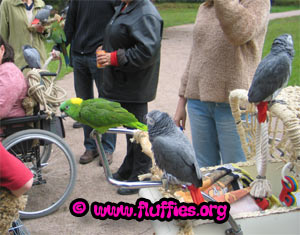 This beautiful elenora cockatoo was also a guest on this day. What a cutie!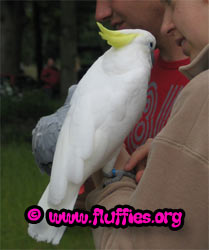 The story continues on page 2!


---
www.fluffies.org
Copyright © 2001- 2005 All About Parrots & Alles over papegaaien
All About Parrots interactive & Alles over papegaaien interactief
All rights reserved. No content may be used or reproduced without the author's written permission