<![if !vml]><![endif]>


Want to see more diary entries with photos? Then please click this link!


The next photo was taken from two galahs or rose breasted cockatoos and Elvis (in the back)
I thought it was funny to catch some cockatoos on film as there weren't many cockatoos during the last events.
(Parrot day in the ZOO & Parrot picnic in the Vondelpark (Amsterdam))
Now, there were much more cockatoos, only Paco (the beautiful triton cockatoo) wasn't present. :-(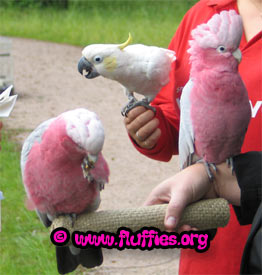 Click here to see a movie of a galah's greeting (551 KB)
Under the trees, this simple play gym had been set up, to provide the different parrots a place to sit. You can see Congo African greys, an amazon parrot & a piece of a blue and gold macaw having a good time on the gym.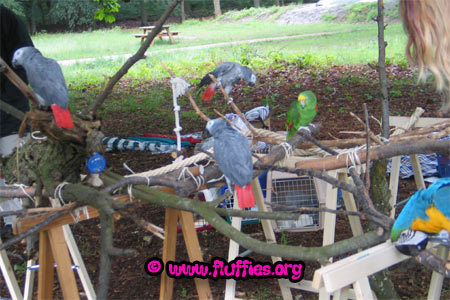 An amazon chat session.. Cute isn't it? People who had amazons were drawn to each other, as with macaw & cockatoo people. It was a funny thing to see!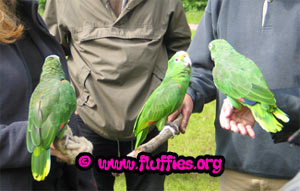 There also was this young girl with her beautiful cockatiel.. :-)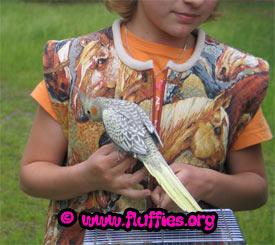 And this man with several cockatiels that he just took with him. :-)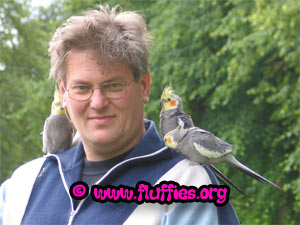 Pabo (green wing macaw) was present as well. This is not Pico, his friend, but another blue and gold macaw, getting acquainted.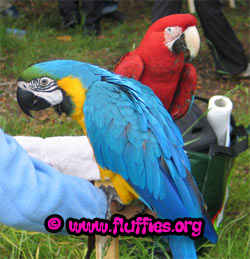 This is Indy, a very beautiful yellow collared macaw. (She lives together with the grey parrot perched behind her)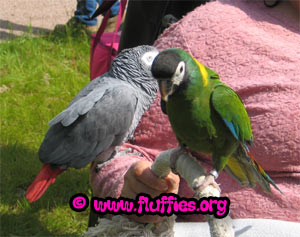 People sat down in the gras, and had their lunches. The parrots were fed treats as well.
On the photo below you can see a woman sitting down with her African grey parrot.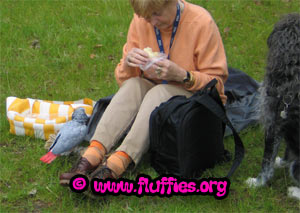 Also plucked parrots were present. I had been told that this umbrella cockatoo was totally bald last year. She looked great now!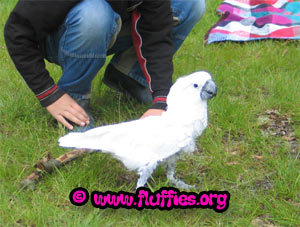 The story continues on page 3!


---
www.fluffies.org
Copyright © 2001- 2005 All About Parrots & Alles over papegaaien
All About Parrots interactive & Alles over papegaaien interactief
All rights reserved. No content may be used or reproduced without the author's written permission