<![if !vml]><![endif]>


Want to see more diary entries with photos? Then please click this link!


The purpose of this day was to educate people about the possibility of turning their parrot into a so called 'modern parrot'.
They had made a huge event of it, with lots of advertising, and also tv shows dedicated some time to this special event.

Now, you'd ask, what is this so called 'modern parrot'?
Let me explain. It's a parrot that is a true member of the family, is wingclipped, joins you when you shop, visit someone etc.
Modern parrots should not be allowed on shoulders according to the people who organized this day.
According to them, allowing parrots on shoulders is the cause of a lot of behavior problems.

Our avian vet was also present at this day. He supports the view of the 'modern parrot' as well.
In the next few pages you'll be able to sense some of the atmosphere at the parrot drive inn. You'll also be given a view from my eyes with many photos.

In these photos & movies you'll see many birds of different kinds interacting together.
There are no known cases of injured birds during this day, not with the people who organized this day, nor with the avian vet present.
Note that one should always be careful when letting birds play with each other.
*** Disclaimer & warning PLEASE READ *** Please note that one should be careful to take his or her birds on outdoor excursions. Wings should be clipped properly and in case of a smaller, lighter built birds, please ALWAYS use a harnass!
If you are not sure if your bird is considered light built, please ALWAYS use a harnass!
The small birds on this page not wearing a harnass are WELL TRAINED and under DIRECT SUPERVISION of an AVIAN VET who was PRESENT at that day!
The birds on this website are thoroughly trained parrots. Some of the activities depicted could put smaller or/and untrained birds in jeopardy.
Also, my parrots are fed a very healthy, organic diet on normal days.
PLEASE only feed your parrot these unhealthy snacks on rare occasions and in VERY small amounts!


The first photo gives an impression of how things were put down.
In the middle there was a stretch of grass with a path running around it.
At that path, there were stands where you could let yourself being educated about the 'modern parrot concept'.
In the circle of grass, branches had been put together to form some sort of huge play gym where you could leave your parrot supervised.

The grass was marked with rope, and only the parrot owners were allowed in the circle.
On the photo you can see people looking at the parrots on the huge gym.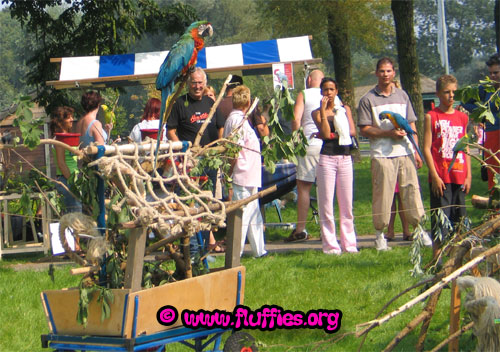 The next photo is to give an impression about the stands & the people that were in it.
Zazu seems to have found a wonderful spot on a couch that was brought to the parrot drive inn.
He makes sure the stand crew do their work properly... :-)
The girl in the black shirt with short sleeves sitting on a chair, was one of the organizers of this wonderful day.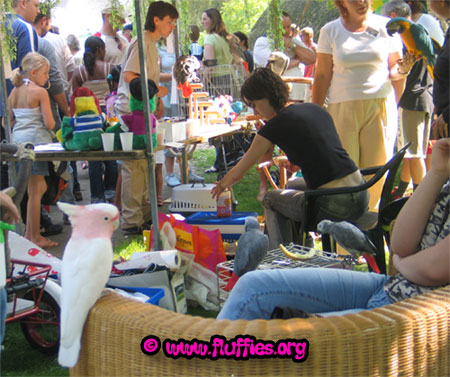 Click here for a movie that gives an impression of the stands (983 KB)
On the photo below you can see some more: A cart, specially asjusted to a parrot's needs, is standing behind the stand.
Zazu is quite comfortable while overviewing it all. :)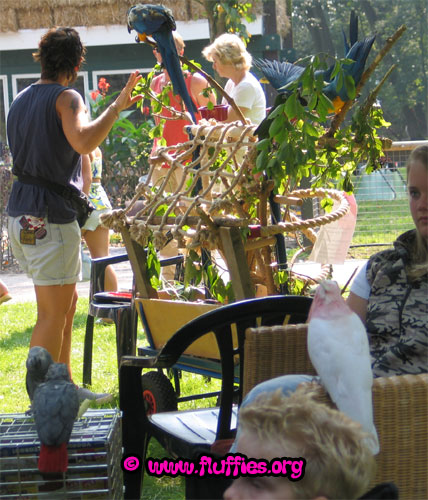 The little boy at the right of the photo is holding Sjonnie & Anita, two lovebirds.
Sjonnie & Anita are quite easy going and win people's hearts wherever they go.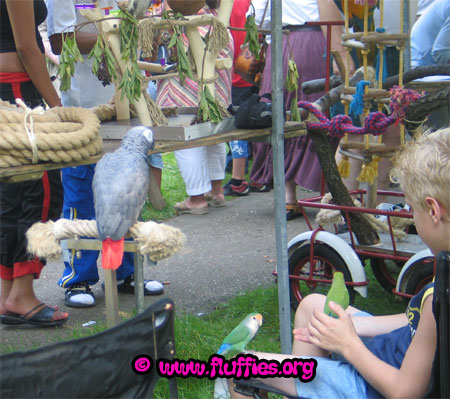 The story continues on page 2!

---
www.fluffies.org
Copyright © 2001- 2005 All About Parrots & Alles over papegaaien
All About Parrots interactive & Alles over papegaaien interactief
All rights reserved. No content may be used or reproduced without the author's written permission