<![if !vml]><![endif]>


Want to see more diary entries with photos? Then please click this link!


On the next photo you can see Tica, the blue fronted amazon parrot sitting in the middle of other parrots.
There is also some sort of conure sitting at the right of the photo.
If you know the species of this conure, please email me.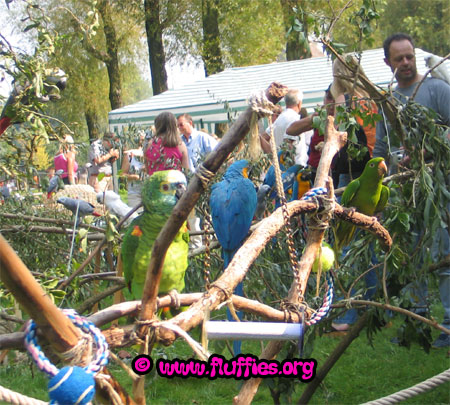 Two mini macaws are fighting. A yellow collared macaw named Indy & a noble macaw named Bowie.
Zazu doesn't plan to interfere and looks at the fight from a safe distance.. :)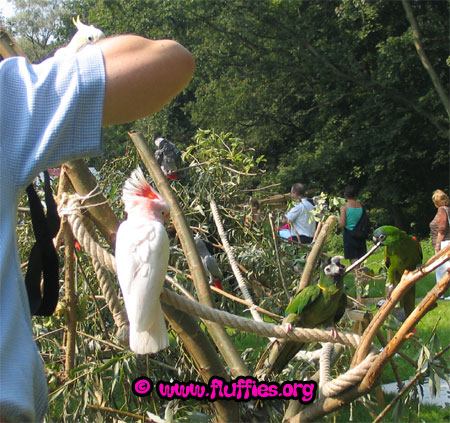 Click here for a movie of Iago running away from a fight (864 KB)

Click here for a movie of Zazu, who doesn't like fighting birds either (1.155 KB)

Click here for a movie of Iago, trying to stay on the gym (682 KB)
(Zazu isn't really helping his older brother!)
On the photo below the stand of the clinic for birds.. :)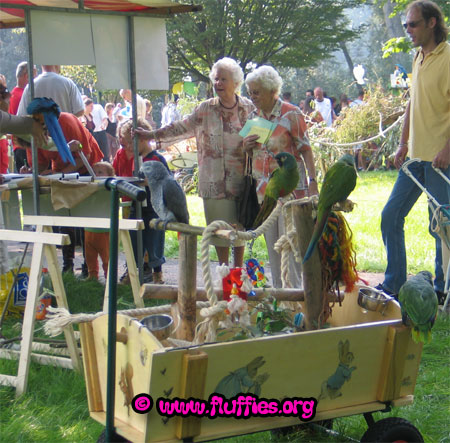 A member from the Senegal parrot club I run also visited this day.
Before this day, Joris, the Senegal parrot on the photo, was full flighted.
His wings were clipped, and he also became a 'modern parrot'..
Joris is doing extremely well at the moment. He got a new friend: An African grey parrot named Tabu.
They both are very 'modern' parrots!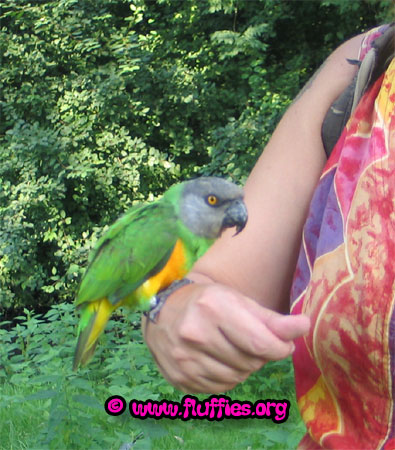 The story continues on page 4!

---
www.fluffies.org
Copyright © 2001- 2005 All About Parrots & Alles over papegaaien
All About Parrots interactive & Alles over papegaaien interactief
All rights reserved. No content may be used or reproduced without the author's written permission